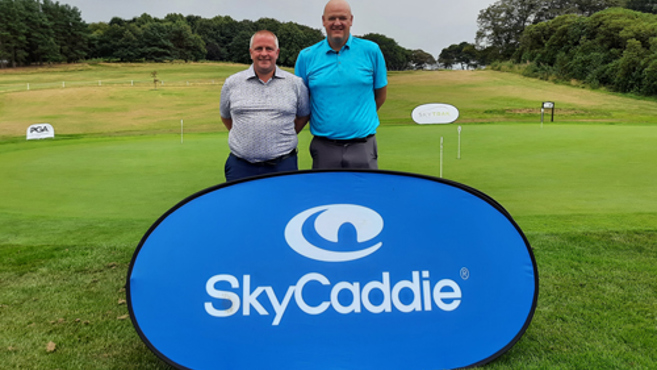 One of the first things Wayne Mundy will have to ask his new employers will be for time off to represent Bishop Auckland Golf Club in the SkyCaddie PGA Pro-Captain Challenge final in Italy.
Mundy and PGA professional Michael Pilgrim booked their place in the final by amassing 45 Stableford points to win the North B qualifying event at Huddersfield Golf Club.
Their round included 11 birdies, seven of which came on the back nine, and resulted in them finishing a point clear the host venue's duo of Andrew Marlow and PGA pro Alex Keighley.
They will now take their place in the showpiece final which is due to be held at the Argentario Golf Resort, Porto Ercole, next year.
Mundy, a commercial insurance broker, is set to start a new job on Teeside and should be settled in his new role by then.
But the nine-handicapper is leaving nothing to chance in booking time off to play in the final.  
"One of the first things I'll have to do is tell them I need a week off," he said.
"It's going to be the biggest competition I'll ever play in, so if I need to do it unpaid, I will."
Reflecting on their winning round, Mundy revealed he found himself under pressure on the 18th hole.
"It's fair to say we finished very strongly, Mike himself had seven birdies on the day," said the Bishop Auckland captain.
"But he put some pressure on me at the final hole as he lost his ball off the tee.
"I ended up with a birdie to clinch the extra point which turned out to be enough to win the event.
"It was quite sweaty, we chose not to monitor the scores on the App. But our playing partners were and they asked us if we'd like to know how we stood, we both declined.
"But that told me that we were in with a chance. We couldn't find Michael's ball and if I'd had a bottle of whisky in my bag I think I'd have had a good swig of it.
"It was a big competition and I'd wanted to do well from the start. Mike calmed me down and I picked up after that. As soon as the final putt went in, the others told me we were in the lead."
CLICK HERE for a full list of scores