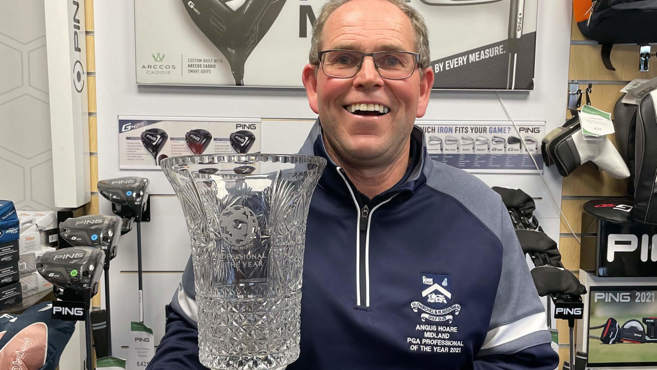 Angus Hoare has described winning the Midland PGA Professional of the Year award for 2021 as an 'amazing achievement'.
Hoare was presented with his certificate at the recent Midland Regional Members' Meeting held at Kings Norton Golf Club earlier this year.
Hoare, based at Churchill and Blakedown Golf Club, commented: "It's an amazing achievement and feels so far-fetched to me. Reflecting on my time in the industry so far, I know how hard I've worked for 36 years and it feels nice to get this recognition."
Hoare joined Churchill and Blakedown six years ago when there was no full-time PGA Professional. Since then, there have been some significant changes.
"It was a clean slate to bring fresh thoughts to the club and my task was to help build the membership," he continued. "During my time here the membership numbers have quadrupled and we're now building good foundations for the future.

"The ladies membership numbers have about tripled too and more recently we have had a significant number of new lady golfers joining the Club. Within the last six months, especially over the winter period, it has been unbelievable."
Hoare believes the key to building his reputation has been not overlooking the importance of the smaller details. As he eloquently puts it: "working hard on the small chestnuts, because they make the big oaks.

"Engaging with your customers, knowing members' names or just doing something little for nothing. That is what makes someone come back. These are all small things but make a huge difference. It can take 30 years to build a reputation and 5 minutes to lose it."

When speaking with Hoare, it's easy to tell how passionate he is about his role. He is quick to confess that he is undoubtedly a workaholic, but considers himself fortunate to be doing a job that he enjoys so much.

"Early in my career I was mentored by PGA Professional Mark Laing, now General Manager at Bromsgrove Golf Centre, and he instilled his work ethic and dedication into me. The hours don't feel long when you love your job and work around amazing people. The membership is a real community and I know that when I'm busy, so is the Club."

Hoare has been keen to help the membership flourish by making sure golf is accessible to anyone that wants to try it out. He runs disability coaching and makes sure clubs are available for any children wanting to give golf a go.

Looking forward into the rest of 2022, Hoare talks about his desire to continue pushing the business forward whilst trying to find a balance with his home life. Between running the business and having four children at home, he is certainly kept busy.

Hoare added: "The plan is to keep going upwards, but managing to get a better work-life balance would be nice. Finding the right staff that share my positivity and drive will be key to taking some of the strain off my shoulders."