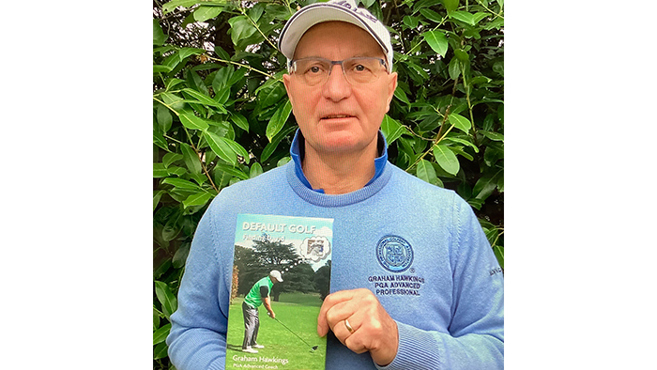 Having been teaching golf for well over 30 years, Graham Hawkings, Head Golf Coach at Malvern College in Worcestershire, often had students saying 'you ought to write a book'. The opportunity to finally sit down and write one came about due to the COVID-19 pandemic.
Golf coaching was briefly put on pause, but it allowed time for Hawkings to finally sit down and turn thoughts into pages.
Less than two years later, Hawkings can proudly call himself an author with the release of his first book, 'Default Golf: Finding David' in December 2021.
At first, the name might seem a little strange, but Hawkings reveals that it is actually a nod to Michelangelo's iconic Statue of David, which he regularly uses as a metaphor for a golfer's swing.
He explains: "The solid piece of marble that Michelangelo started with already contained the Statue of David: all he had to do was search and uncover it by chipping away.
"Every golfer has their default golf swing, one that comes most easily and natural to them. This is the solid piece of marble from which you will chip away until you find your David."
Throughout the book, this underlying theme remains, inspiring the reader to maximise the skills they already have. At first, a fundamentally sound set-up is imperative. This then forms the framework for allowing the default settings of your golf swing to operate at peak performance.
Hawkings is incredibly fond of a metaphor, which you can tell from the title of his book, and he explains that his coaching philosophy is similar to a jigsaw puzzle.
He continued: "Your golfing fundamentals are like the corners of a jigsaw puzzle. You put all of the corner pieces in place to begin with, because this allows you to make quicker progress. Then eventually, as the pieces become fewer, it starts to come easier."
Hawkings played county golf and competed in national amateur events, but went on to focus on teaching, eventually becoming Head Golf Coach at Malvern College, a private independent boarding school for 13-18 year old pupils, where he has spent the last 11 years.
The book is all about encouraging the reader to do the simple things well and having been primarily self-taught himself, Hawkings understands first-hand that learning does not need to be over complicated.
The book shows golfers where to look for improvement, but it doesn't necessarily tell you what to see. Hawking's approach is that golf is not an exact science and there is certainly more than one way to play the game. He emphasises that the use of technology has its place within golf coaching, but that he chooses to use it selectively.
Describing golf as just a simple 'ball and stick game', Hawkings hopes that his more straightforward approach within the book can help golfers become the best golfing version of themselves - finding their David.
CLICK HERE to pre-order a copy of 'Default Golf: Finding David'