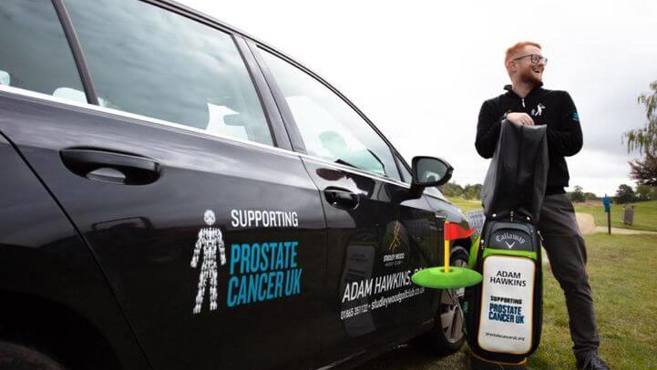 Studley Wood assistant professional Adam Hawkins has raised more than £6,000 for Prostate Cancer UK after taking part in The Big Golf Race, the charity's new golf fundraising challenge.
Hawkins, 35, completed four rounds of golf in five-and-a-half hours, scoring 73, 77, 77 and 75.
The fundraiser was in support of Prostate Cancer UK, a charity close to Hawkins' heart after his father was diagnosed with the disease in 2016.
Hawkins, who is now in his second year as a professional, smashed his £5,000 fundraising target with the total now having surpassed £6,000.
"When I came to finish my final round there were about 100 members around the green," said Hawkins, who is an ambassador for Prostate Cancer UK.
"The way I look at it, even though I'm in pain now there are a lot of people who suffer all the time and it's great so much money has been raised.
"It's a big part of my life and the money is important to keep their research going."
The Big Golf Race is a golf challenge created by Prostate Cancer UK and can be undertaken over four rounds (the marathon), two rounds (the half marathon) or one round (he Sprint). In Hawkins' case, he devised his own challenge taking on 'The Marathon' Big Golf Race challenge in 'sprint' fashion to capture the attention of the members at Studley Wood.
Tracey Pritchard, Director of Fundraising & Supporter Engagement at Prostate Cancer UK, added: "Golf has been so influential in spreading the word about prostate cancer.
"It's now the most commonly diagnosed cancer in the UK, and one in eight men will be affected by prostate cancer in their lifetime in the UK, so we need to drive home this serious message.
"Prostate cancer exists in every golf club, and we at Prostate Cancer UK want to fund ground-breaking research to help fight the disease and to provide dedicated support and information to men affected by this disease, and those they hold dear.
"By taking on The Big Golf Race, golfers who have joined the fight are playing their part in making prostate cancer a disease future generations need not fear. We're incredibly grateful for Adam's ongoing support, not only his fundraising but his efforts to raise awareness of the disease in the Studley Wood pro shop too."
CLICK HERE to find out more about The Big Golf Race.