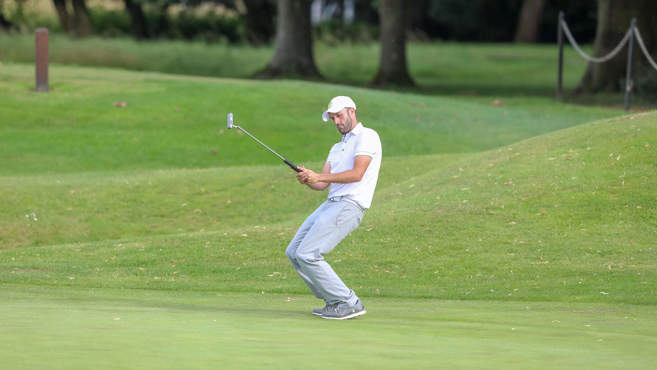 When evaluating Paul Hendriksen's recent displays at the Bowood Hotel, Spa and Golf Resort, the term horses for courses comes to mind.
On his last two visits to the Wiltshire venue prior to his latest one, the pro, who is attached to Ivybridge Golf Club, Devon, finished tied second and first.
Now, two thirds of the way through the English PGA Championship, he leads the chase for the £5,000 first prize after posting the best round of the tournament thus far.
His seven-under-par round of 65, which featured eight birdies and was tempered by one bogey, has left him a shot clear of the 60 who survived the cut thanks to posting scores of four-over or better.
The list of those who have missed out on a third negotiation of a challenging parkland course in pristine condition that has been integrated seamlessly into a landscape fashioned by Capability Brown features some accomplished golfers.
PGA Cup captain Cameron Clark missed the cut, as did Chris McDonnell, a member of the 2017 victorious team; Chris Rodgers, the 2006 Pakistan Open winner who played in the 2014 Open is also missing; ditto Paul Simpson, like Hendriksen, a winner of the PGA Professional Championship.
Conversely, an even bigger posse of skilful and seasoned performers are on hand if Hendriksen falters. Not least Daniel Scourfield.
The 28-year-old, who has recently moved to the nearby Wiltshire Club, reprised his three-under-par first round of 69 and is a shot behind Hendriksen on six-under for the tournament.
Ben Talbot and Nico Els, who are on five and four-under respectively, are very much in the mix. As are the trio locked on three-under: James Ablett, Ian Campbell, and Timothy Dykes.
Ablett, who began the second round sharing pole position, looked set to remain there after posting birdies at three of his first six holes.
But a barely over-cooked approach on the par-four that conspired to find an almost unplayable lie appeared to affect his round.
That misfortune resulted in a bogey and was followed by a dropped shot at the par-three 17th. Four more bogeys cushioned by two birdies on the back nine resulted in Ablett trailing Hendriksen by four shots and with good cause to ponder what might have been.
Full scores can be accessed via this link:
https://pgagbi.bluegolf.com/bluegolf/pgagbi19/event/pgagbi19447/contest/5/leaderboard.htm