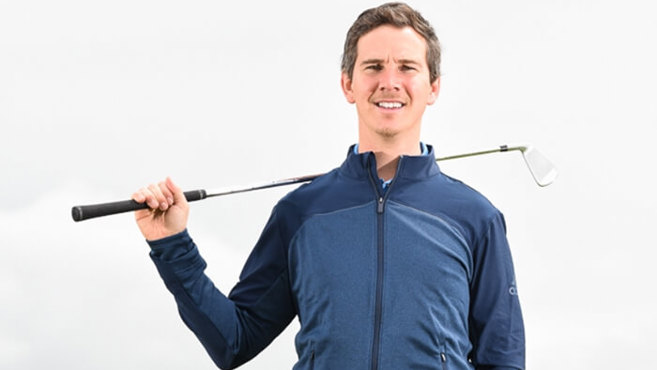 In the middle of the Covid-19 pandemic and with the UK in full lockdown last year, golf coaches, like so many professions, found themselves unable to get out to work.
Aaron Holtom, an Advanced PGA Professional based at Morley Hayes Golf Club in Derbyshire, used this break from his usual teaching schedule as an opportunity to launch his first training aid, the Golf Air-Plane.
Holtom explains the Golf Air-Plane training aid was designed to act as a safer alternative to alignment sticks when working on the golf swing.
He said: "Recreational and beginner golfers do not have the same accuracy as professionals, so it's unsurprising when they regularly make contact with the alignment sticks due to a misplaced swing.
"Alignment sticks have the potential to turn in projectiles when struck mid golf swing and can also damage golf clubs. It's embarrassing when it happens in your golf lesson and having spoken to lots of other coaches, it seemed to be a common issue."
Fellow Advanced PGA Professional, Steve Astle, regularly uses the Golf Air-Plane during his lessons. He commented: "I love using the Golf Air-Plane, because its durability and flexibility means I can set really tight parameters that will force golfers to break old patterns. I know they won't injure themselves, but they get instant feedback and learn to solve the problem quicker."
The inspiration for Golf Air-Plane came from an unlikely source. Holtom explains: "I actually first got the idea from when my son went to a SoftPlay party at an inflatable park. He was given a 'cheer stick', essentially a small inflatable cylinder, and I thought this low-density style design was the perfect solution to use as a golf teaching tool."
When first exploring how to get his new product onto the market, Holtom found help through connections he has gained whilst coaching as a PGA Professional. And, although his years of experience within the golf industry gave Holtom the confidence to know he had a good product, it was getting savvier with marketing that he said was the most important learning curve.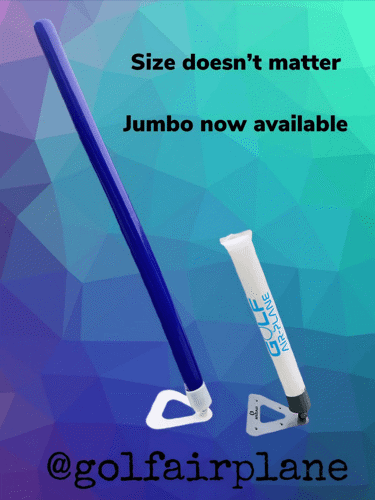 Holtom continued: "Both my golf coaching and selling my training aids rely on me having confidence in myself and the products that I am selling. But you can have the best product in the world and if you don't market it correctly or push it enough then people might still not buy it.
"Being consistent with marketing is key. You just need to invest time to ensure you are posting on social media regularly and putting yourself out there."
Without his usual busy teaching schedule to contend with, Holtom started the Golf Air-Plane project as a way of keeping himself busy through lockdown. However, it quickly became an obsession, and now he even has his own 3D printer to make his own products and he is constantly looking for opportunities to make new products that can solve common problems within the industry.
In addition to being an Advanced PGA Professional, Holtom completed a Master's Degree in Sports Science and is one of only a small number of PGA Professionals with research into the use of 3D biomechanics in golf, counting Dr. Mark Bull as a mentor.
Bull and Moltom combined forces and created three new golf training aids in 2021 in addition to Moltom's original design. These training aids sold out within two weeks of launching due to overwhelming demand, but are now available to purchase again at Bull 3D Academy.
When asked what advice he would give to other PGA Professionals thinking about taking on their own side projects, Holtom added: "Plenty of people have ideas, but taking that first step can be a daunting one. You just need to jump in and get started. There's always someone willing to help that has more experience in an area you might not, you just need to search for them."
PGA Members can claim a 15% discount on the Golf Air-Plane by using the code PGA at the checkout.
CLICK HERE to find out more about the Golf Air-Plane as well as further designs from Holtom.