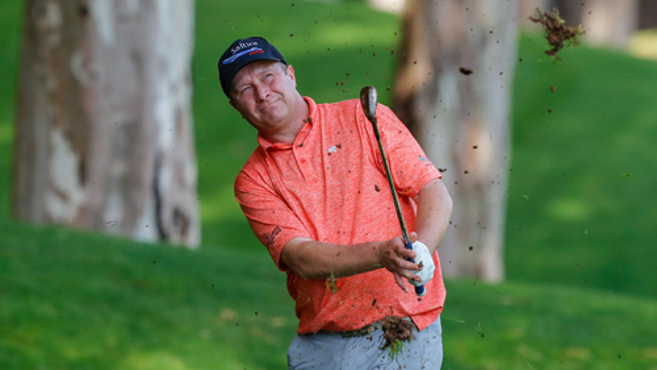 Greig Hutcheon has booked his place in the final of the PGA Professional Championship by winning the Scottish region qualifier at The Dukes, St Andrews.
Hutcheon, who holed the putt that clinched victory for Great Britain and Ireland in the 2017 PGA Cup, posted a five under par round of 66 to finish two shots clear of Chris Currie (Erskine Golf Club) and Ian Graham (Crow Wood Golf Club).
The trio will join 13 other qualifiers at the £69,500 final to be held at Blairgowrie Golf Club in Perthshire between June 15-18.
That will be the first of two national finals for Hutcheon – he and Scott Henderson of Kings Links Golf Centre won the Scottish regional qualifier of theGolfbreaks PGA Fourball Championship last month.
The 48-year-old, who represents Aberdeenshire's Torphins Golf Club and has won the Scottish PGA Championship three times, recorded six birdies including two in a row after making a bogey at the par-four fourth hole.
Reflecting on his round, he said the conditions reflected the rainy weather seen in recent weeks.
But the damp did nothing to stop his winning start to the year.
"The PGA did well to get the event played, it'd been like a monsoon at the weekend," he said.
"It was very wet in places but the sun came out later. It feels as though summer's finally arrived in Scotland.
"I plotted my way round and it worked out okay.
"I'm looking forward to this final now, as well as the fourball event with Scott.
"The last 12 months have been difficult, I think home schooling was the toughest bit.
"But, in Scotland, we were quite lucky that, even in lockdown, we could still play golf."
Hutcheon says he has only played at Blairgowrie on a few occasions but believes the timing of next month's grand final should be ideal.
"With the better weather that's hopefully coming it should suit what is a tree-lined, heath golf course," he said.
"Even the guys from the south will be used to the setting, it's like a Sunningdale-type of venue, heather, pine and birch trees. It's a very nice course and it could start playing quite fast if conditions improve."
CLICK HERE for the full list of scores