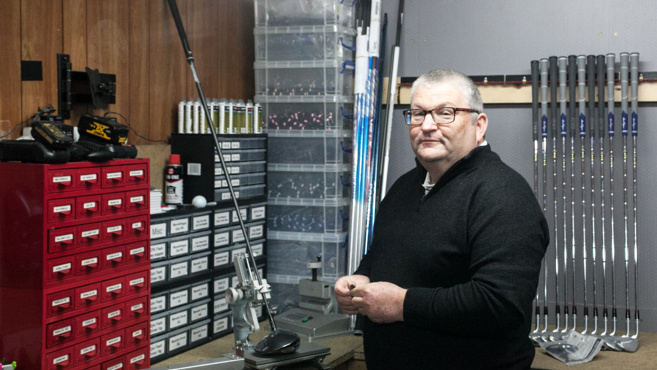 They say the secret to a happy working life is to find something you enjoy doing and make it your profession.
Such a perspective would certainly be endorsed by Lee Porter, whose endless fascination with golf technology has led to a successful business, stemming from his teenage days spent in club repairs on the outskirts of East London
Porter, now 51, is a PGA professional at Hylands Golf Complex near Chelmsford in Essex. He has been there since 1997 when a lot of his time was taken up with coaching after qualifying at Hainault Forest Golf Club a few years earlier.
Those early days at Hylands reinforced what he'd already recognised – that many golfers could make significant advances if they used equipment that was right for them. So he started offering solutions with a small selection of his own clubs built from component parts. He'd then suggest them as alternatives to clients during lessons on the range.
For example, if someone came in with a driver that lacked a bit of loft, he'd hand over one of his own that rectified the issue. Similarly, if the driver was too long for the pupil, he'd swap it for one of his builds that was shorter.
"In the lessons they would hit this club better and I said I'd make it for them," explains Porter. "It gave me an option to be able to show to the player that you can have a course of lessons or we can get you into something like this and you'll improve a lot quicker."
Porter's reputation grew through his blend of honest appraisals along with problem-solving through use of equipment. He could make up clubs to suit individuals, while also being a natural at customisation. After all, in his formative days he'd learnt at Warren Park Golf Centre under the eyes of Peter Simmonds, assistant to renowned equipment expert Eddie Whitcombe. Indeed, Lee recalls how he was also "lucky enough" to work with Whitcombe – or "Mr Whitcombe" as he refers to him.
Detailed fitting from your PGA professional has become the norm these days. But in the first decade of the 21st century it wasn't anywhere near so prevalent. So by offering Savile Row bespoke service with component parts from a series of companies, when it came to golf equipment Porter was ahead of the game. It also meant that he was incredibly busy.
"I was doing 45 fittings a week as a one-man band," he recalls. "And every single one of those fittings, whatever I sold I would build myself. So it was just crazy – irons, woods, I was here all day, every day, either building clubs or fitting on the driving range. It was nuts."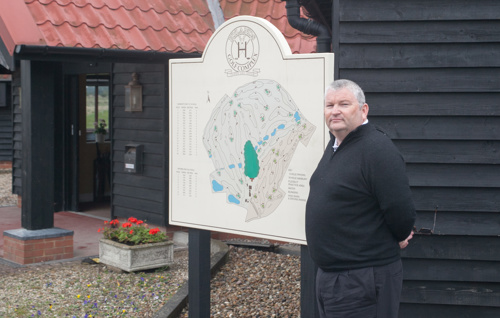 Porter was shrewd enough to realise that it was also unsustainable in the long run; not if he wanted to maintain a level of sanity. So, when Accra Golf – a Canadian company that produced shafts – offered him an opportunity to manage their after sales in the UK and Europe it was a simple decision.
"It was very clear to me at that time that custom fitting was going to explode," he says. "People were asking more questions, wanted to know more about shafts, what was right for them. It was a natural progression that all of golf would go into fitting. And I kind of thought to myself, I can carry on doing what I am on the driving range forever or I can get on the other side of this and be in the supply chain.
"That's what I've done and to be honest, it's the best decision I ever made. I always tried to look two or three years ahead of where I thought it was going to go and I've been very lucky in the guesses I've made."
Porter now administers the after sales – his business is effectively a satellite warehouse solution – for renowned shaft designer and manufacturer True Temper. It's grown to the extent that he requires a staff of six who are involved in all aspects of customer relations from sales enquiries and shipping through to training days with the fitters and club-makers. "It keeps us very busy, to be fair," says Lee, whose business has 170-plus accounts across Europe.
Porter has long since given up coaching but he still offers his invaluable expertise to golfers of all levels. He is available at Hylands for what he markets as a 'Performance Session'.
"It's a look at the player and a look at their equipment and to see if those two things go hand in hand," he says. "If they don't I will advise on whether that's a swing issue or club issue – or both. Then I will give them an analysis…why the clubs don't work or that the swing you're making is always going to do this."
If it's a course of lessons that's required, Lee points them in the direction of their club PGA professional – likewise, if he sends them away with specifications for potential new equipment purchases.
"I will always try and get them to buy off their professional," he adds. "The way I see it, I've been paid for my hour – I'm more than happy with that. To be honest, they send me more customers; they've got the confidence that I'm not going to steal their customer. It works in the long run."
For Porter, the enduring passion for golf and golf technology continues. It's likely to last this self-confessed "golf geek" for a lifetime. After 35-plus years in the industry, he sums it up thus: "To this day, I still absolutely love what I do."
How many others in the world can truthfully say the same about their job?