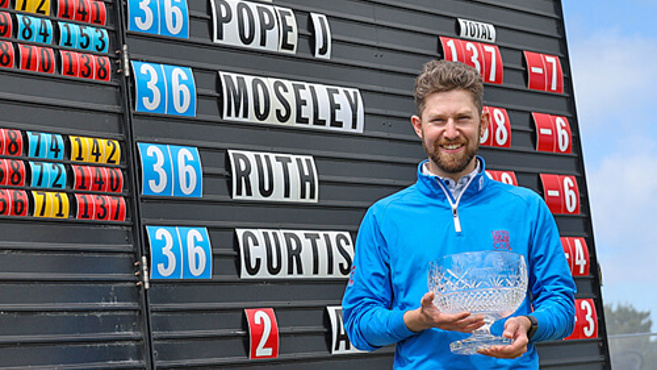 Jack Pope belied his lack of experience and held his nerve to turn his first appearance in a PGA South West Order of Merit event into a dream debut.
The 24-year-old, who turned pro three months ago and is not scheduled to start his PGA training until October, kept an experienced field at bay by posting a seven-under par score of 137 to win the Carlsberg Marston's Get to the Point Order of Merit.
The rookie pro from Exeter Golf and Country Club had begun the second round at The Point at Polzeath two shots clear of the field after a six-under par round of 66.
His second negotiation of the Cornish venue was less spectacular by comparison which, given the wet and windy conditions, was understandable.
"It was horrible weather out there, especially when we started," he said. "It was tough. And there are some really tough holes out there that were playing even harder into the wind."
Nevertheless, he maintained his advantage until the wobbles set in on the back nine by which time, perversely, the sun was shining.
Bogeys at the 11th and 14th holes erased his lead and with James Ruth back in the clubhouse on six-under after posting a best round of the day, a four-under par 68, a play-off beckoned.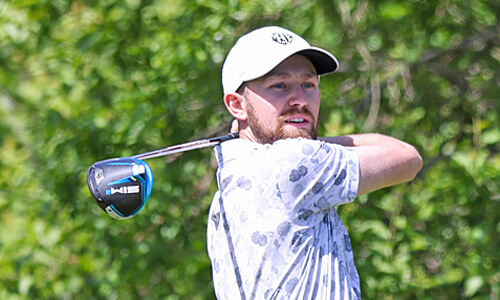 Pope, however, rediscovered his mojo on the par-five 17th albeit by unwittingly taking the scenic route via the 15thfairway.
In cricketing parlance, he had deposited his drive over extra cover but the five-iron approach that followed was worthy of winning any tournament. Which effectively this did.
The ball came to rest no further than four feet from the hole and, somewhat anti-climatically, Pope did not do it justice by spurning the eagle opportunity.
The subsequent birdie putt, however, followed by a par at the 18th ensured he finished a shot clear of Ruth and Matt Moseley and claimed the £2,200 first prize.
Reflecting on his win, he said: "It was good to put two good rounds together and win the trophy.
"I had quite a few anxious moments and was aware of what the scores were early on, but I didn't really look at it towards the end, although I had a feeling I was somewhere near the top.
"So, it's really good to start off with a win. I can't say I expected it or thought it was going to happen.
"There again, I hadn't really planned on turning pro this year, so we'll see what happens – hopefully more wins!"
CLICK HERE for a full list of scores