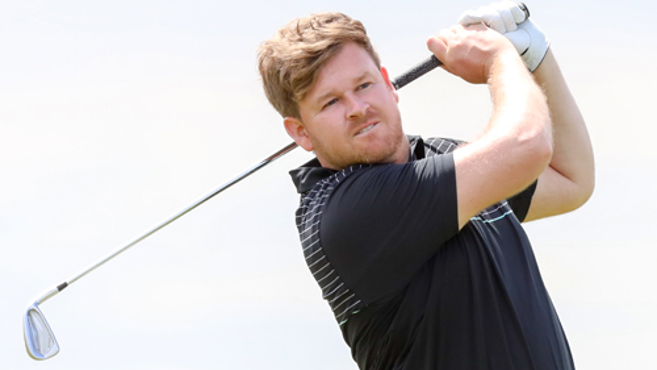 Scotland's Paul O'Hara will attempt to become the first player since 2002 to win the PGA Professional Championship for a second time buoyed by a successful start to the season.
The 34-year-old will tee off on the Peter Alliss and Dave Thomas-designed Lansdowne course at Blairgowrie Golf Club, Perthshire, tomorrow, alongside 143 other PGA Professionals aiming to win the Association's most prestigious tournament.
And he will do so on the back of an astonishing run of success in this year's Arnold Clark-sponsored Tartan Tour.
To date, O'Hara has not finished outside the top three in the eight events, tied for first place in two of them and won another two, including the Northern Open, outright.   
All of which amounts to the pro from North Lanarkshire Leisure having won twice as much prize money as his closest pursuer.
"I've been playing quite steady and I'm happy with the start to the season," said O'Hara, with engaging under-statement.
"It's been a good start but I've not played as much as I'd like. I'm still trying to get myself into full match-sharpness and have been practising hard, especially my putting and chipping.
"I've got a new driver, new irons and new ball in the bag and the new driver is giving me extra distance if I need it."
From what O'Hara has heard, however, that may not be needed at Blairgowrie.
"I've played it a few times," he added. "I played there in a match against Ireland several years ago but have not been up there recently.
"I've heard from those who have that you get a lot of run off the tees because it's so firm. It will be a case of using irons rather than drivers off the tee and positional play will be very important."
O'Hara has a good record in the tournament: he won it in Ireland at Luttrellstown Castle in 2017, finished runner up at Little Aston in 2018 and tied-fourth at Hunstanton the following year.
"I didn't play last year," he continued, "but I like this tournament because it's played over four rounds rather than the one or two we're used to. I'm looking forward to it."
O'Hara is not alone, however, in trying to become the first to lift the trophy for a second time since Bob Cameron in 2002.
Defending champion Matt Ford is in the field as are O'Hara's great Scottish rival, Alastair Forsyth, Andrew Willey, David Higgins, Paul Hendriksen, Chris McDonnell, Paul Simpson and Sion Bebb, the winner in 1999.
In addition, to vying for the £10,000 first prize, they and the rest of the competitors will be in the hunt to earn points to book a place in the Great Britain and Ireland PGA Cup team to take on the USA at Foxhills, Surrey, in September next year.
Six places in the 10-strong team will be determined by points earned in this and next year's PGA Professional Championship with those amassed in the 2022 tournament worth double those acquired at Blairgowrie.
Another three places will go to the top three in the 2022 PGA Play-Offs which, as is the case this year, will be run in tandem with the PGA Professional Championship. The final member of the team will be picked by the captain, DJ Russell.
CLICK HERE to keep up-to-date with the scores from Blairgowrie