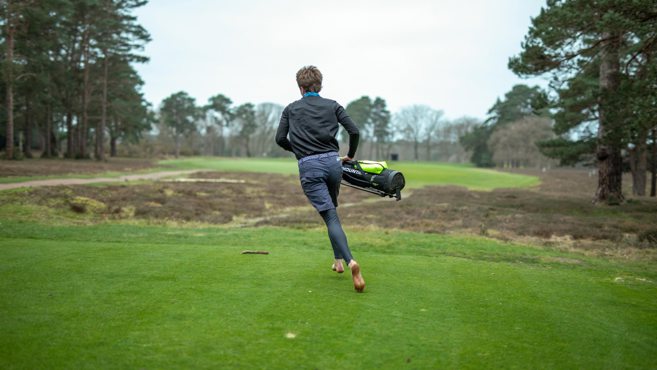 While many golfers enjoyed a leisurely four-hour stroll as golf returned in England last week, PGA Professional Luke Willett managed to finish 18 holes in under 45 minutes in his bare feet.
Willett teed off at Woking Golf Club barefooted at 6.30am and with just four clubs in his bag. He tapped in his final putt on the 18th just before 7.15am having taken 84 shots in total and he even managed to keep the same ball.
Willett told Golf Monthly: "I woke up at 4.20am or something like that, hit the road, got to the golf course nice and early, teed off at 6.30, which was pretty much as soon as I took my shoes off, I was like 'Ah man I can feel the cold, better get going.'
"The mad thing is I played with my original ball from the first shot to that final hole."
The barefooted 18 holes is the latest in a series of incredible challenges Willett has undertaken.
Last summer, Willett raised funds for The Golf Foundation by completing a unique 'PEAK Potential' charity challenge to remind everyone of the health benefits of golf, while igniting a sense of adventure for people to reach their potential.
Willett's climbed the three highest mountains in England - Scafell Pike, Helvellyn and Skiddaw – and played 54 holes of golf, near enough to par, on three Lakeland courses, all within 24 hours.
Before that, he played 54 holes of golf in less than three hours, which included running between courses with no transport.
In 2019, Willett completed his 'Great British Open Challenge'. The 36-year-old cycled more than 800 miles around the UK, carrying four golf clubs, to play all 14 Open Championship venues in just ten days.