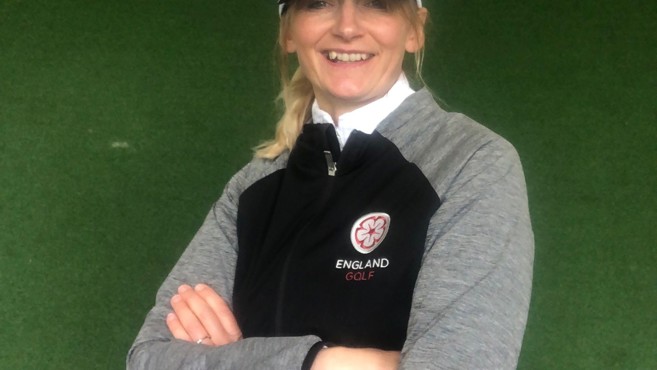 'I've never looked at it that I'm a female coach and nobody will want a lesson off me.'
Lysa Jones always knew that she wanted to be a coach. After playing briefly on the Ladies European Tour she switched her attentions to teaching and she has been helping golfers improve for over 25 years.
"Someone said to me a few years ago that I must only teach women, 95 per cent of my clients are men and they're good players as well."
The PGA AA coach is a former winner of the England Golf Coach of the Year, has spent eight years as the coach of England's U18 boys and is the only female coach working at England level. She has also recently been voted one of Golf Monthly's Top 50 UK Coaches, one of five female coaches to join the list.
In 2021 Jones was selected to take part on a leadership programme of 19 coaches across 15 sports to more than double the representation of women coaches at the Olympic and Paralympic Games in Paris in 2024. She would work closely with Claire Morrison who is the UK boccia coach, a sport she had previously never heard of but one that left a huge impression.
"I had to study their sport, I would attend virtual training sessions and I met up to watch how she delivered her coaching session and it was so amazing and inspirational. There are so many bits that I will implement with my players in the future." 
Jones, as a female coach in the game, remains very much in the minority but she sees no reason why that can't change. She was originally based in Worcester for her PGA training but it was a move to The Oaks in Yorkshire that proved to be a life-changing one. 
"I moved up there and I was confident, not arrogant, that I thought I knew quite a lot. But I started working with Graham Walker and I soon realised that I knew nothing. It was a massive eye-opener, he has been my rock and he pushes me and I still have coaching sessions with him and allows me to observe his sessions with England, county or even his professionals.
Graham always says that when you go to a seminar have the left-hand side of the page for your beliefs and the right for what you're learning. And when you have that info make sure that you can demonstrate it to others. That has always stuck with me, I've just done a short-game session and I loved it as I've been able to hit the shots."
Along with Walker and the England set-up Jones has worked with some of the best coaches in the world, she has twice been to Arizona to spend time with Pia Nilsson and Lynn Marriott (Vision 54) as well as a visit to renowned short-game coach Stan Utley.
"You have to get out there and invest in yourself. That costs money but I learnt so much from that. Follow your dreams, go and spend time with coaches who are actually there and where you want to be, that's what I did. I've had a fantastic journey but I've worked  hard at it. I've never looked at it that I'm a female coach and nobody will want a lesson off me or respect me and other girls shouldn't think like that."
Jones is a self-confessed technology junkie but it is working with people that really gets her juices flowing, male or female, young or old.
"I love engaging with the person and I love how open and honest some of the players are. Whether they are a beginner or one of my pros, watching them perform out on the course and seeing the enjoyment that they get is very rewarding. I did Girls Golf Rocks last year and that was brilliant, they got a little gift bag and loved it.
'I hadn't done a true beginners' session for a few years and I was bouncing and I realised that I had missed it, in the first session they would obviously lack a bit of confidence and they were all shy and timid but once you got them out on the course and they were talking and exchanging phone numbers. From the first session to the last it is completely different and so good to see."
In 2019 Jones was hit with the bombshell that she had breast cancer which would involve radiotherapy sessions that have thankfully treated the problem. This year she hopes to hold a golf day to raise money and awareness.
"That was a bit of a shock. I'll always remember Daniel O'Loughlin ringing on the day that I got my diagnosis that he had won the Walton Heath Trophy, then Elise Reimer rang to say that she had won her county championship. That was the best medicine ever and it's why you stand out in a field for hour after hour. On one hand it was devastating news, on the other it was the best news, you can't make it up."