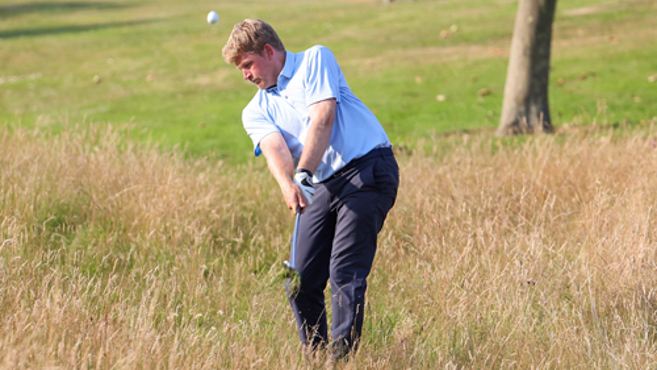 Adam Keogh showed no signs of wilting in the oppressive heat at Bowood nor the pressure of setting a scorching pace on day one of the English PGA Championship.
Having posted a course record-equalling nine under par round of 63, Keogh followed up with a less explosive four under par negotiation of the Dave Thomas designed course.
Less explosive or not, no other member of the 129-strong field surpassed it and Keogh, on 13-under for the tournament, extended his lead by a shot going into the third and final round.
Reflecting on his performance, Keogh said: " I was pleased with that today. Obviously after shooting such a good round yesterday it's hard to come back and try and repeat it so I'm pleased with how it went. I played some solid shots."
There were also two errant ones. After enjoying a bogey-free seven under par round on his last visit to Bowood and following suit on day one, a blip finally arrived after 46 holes.
"It was the wrong club choice on what was my 11th hole," he explained. "I just picked the wrong club and left it too far from the hole and three-putted from 50-odd feet. It was nice to keep a bogey off the card until then."
The second blip came at Keogh's final hole and he added: "My playing partner noted it was my first visit to the rough in 36 holes. It was fairly juicy in there and it was nice to escape with a par."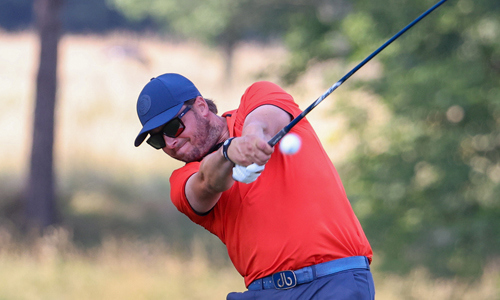 That par ensured Keogh matched the totals posted by Jamie Howarth, James Ruth, Jacob Hunter and James Freeman (above), his close friend and closest pursuer for the £5,000 first prize.
All of which made for an interesting evening prior to the final round as the pair were rooming together locally.
As things stand Freeman is eight shots adrift of his pal but Keogh is mindful what can happen.
"The plan for round three is more of the same," he said. "I've cost myself too many tournaments in my career thinking about leaderboards and what not.
"I'll just do what I do and if it's good enough, it's good enough. If not, someone will probably have had an exceptional round and it will probably be my mate, James Freeman. Fair play to him if he does."
CLICK HERE for a full list of scores