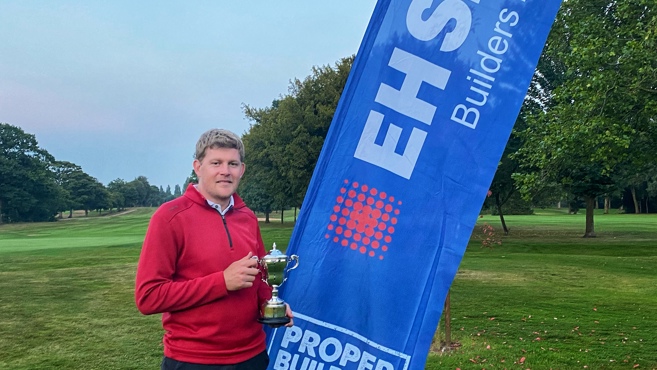 The EH Smith Midland Professional Championship is one of the oldest tournaments in professional golf, having first been played in 1897. Several notable Ryder Cup players have won the trophy in its history, including Peter Baker and Paul Broadhurst most recently.
For the second year in a row the event took place at Moseley Golf Club in Birmingham, with the Pro-Am taking place the day before the professional event.
Darren Moles, Commercial Director of EH Smith attended the Pro-Am: "The event gives guests an opportunity to play golf with a pro and network in an idyllic location."
The Pro-Am was won by Simon Lilly with a sensational round of 61, including nine birdies and no dropped shots.
Competing over 36 holes, Jamie Brittain (3 Hammers Golf Academy) went into the professional event as two-time defending champion, but on this occasion it was Adam Keogh (Woodhall Spa Golf Club) who emerged victorious with a seven-under-par score of 133.
Andrew Jones (Redditch Golf Club) set the early pace with a morning score of 66. However, an afternoon round of 69 was not quite enough to get him over the line. It was a closely contested tournament, with Jones finishing 2 shots back on 135 in a tie for fourth.
Craig Shave (Whetstone Golf Club) and Simon Lilly finished tied second on a total of 134.
Keogh fired home the best round of the day in the afternoon, with a stunning six-under-par 64. His round of seven birdies and a single bogey was enough to take home the trophy by one shot.
Speaking after his win, Keogh thanked the sponsors EH Smith for their support of the event as well as Moseley GC for hosting and the PGA Midlands tournament team for all their hard work.
Winning the EH Smith Midland Professional Championship caps off a stellar year for Keogh. Clearly in good form, he has won several Pro-Am competitions in 2021, but the undoubted highlight came at Bowood in July where he won the prestigious English PGA Championship. He blew away the field, winning by seven shots with a fifteen-under-par total.
The EH Smith Midland Professional Championship also brought to conclusion the 2021 PGA Midlands Order of Merit.
Despite not winning any of the four Order of Merit tournaments, it was the exceptional consistency of Matthew Cort (Beedles Lake Golf Club) that won him the Order of Merit with two tied-second finishes and two tied-fourth finishes.
Speaking about his win, Cort said: "I didn't manage to win one, but we have a good Region [in the Midlands], so even if I play well I am not guaranteed to win. The Order of Merit is about putting in solid performances and I have managed to be pretty consistent."
A combined total of 817.5 points saw Cort run away a fairly comfortable winner. Simon Lilly and Adam Keogh finished in second and third place respectively. The top three in the Order of Merit qualify for the PGA Playoffs.