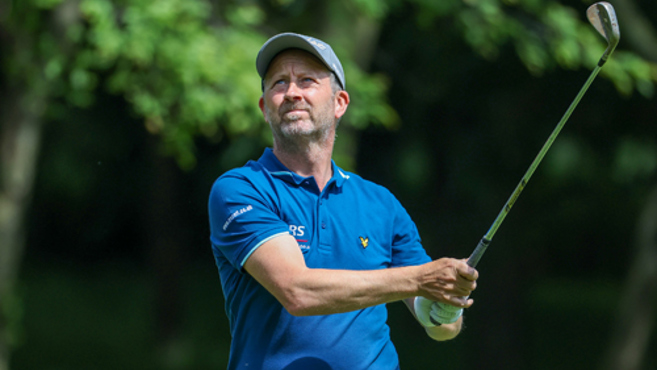 Liam Bond provided the perfect endorsement for his TRS training aid at West Essex Golf Club by setting the pace in the opening round of the Senior PGA Professional Championship.
The former European Tour player, who turned 50 last year and was playing in the event for the first time, posted a six under par round of 65 to lead the 156-strong field in the chase for the £6,000 first prize.
His round featured eight birdies, four of which came in his first five holes, and left him two shots clear of fellow PGA South-West members, Michael Watson and Barry Austin, and three ahead of Richard O'Hanlon and Chris Baron, the venue's head PGA Professional.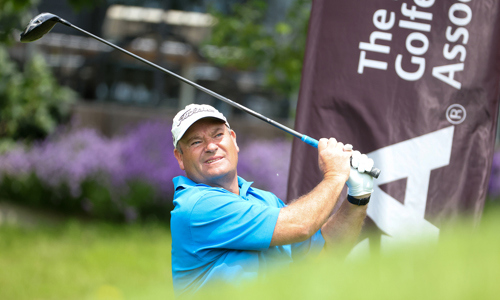 Michael Watson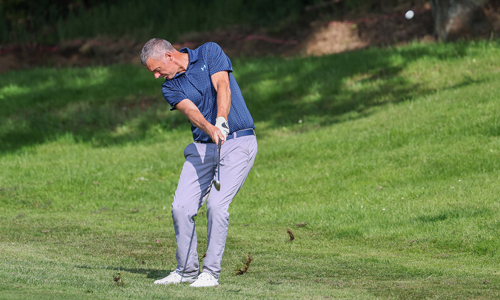 Barry Austin
Reflecting on his performance, Bond said: "I played really nice today. I've never played here before so I came up last night to get a practice round.
"I was glad I did as you need to know where you're going on this golf course. There are some nice intricate par fours so you need to know where to put your ball.
"It's in fantastic condition, what a lovely little golf course it is. I'm really pleased with the way I played."
Bond is also delighted with the way his Tour Rotation Stick (TRS) is proving such a hit with golfers of all abilities, not least European Tour members.
The device helps with body rotation through impact with chip and pitch shots as well as helping perfect rotation in the full swing.
Bond invented it a year-and-a-half ago and added: "There's over 40 players on the European Tour using it and it's going worldwide.
"I've got distributors all over the world and it's a nice little business that will keep running in the background while I continue to play."
That includes the final round at West Essex and, anticipating it, he said: "I'll approach the second round the same as I did today.
"I'll hit the same clubs off the tees and I putted really well today.
"I made a few alterations to the way I putt – I was very average on the greens at Trevose a couple of weeks ago so I made some changes. They paid off really well today so I'm going to do that again."
CLICK HERE for a full list of scores