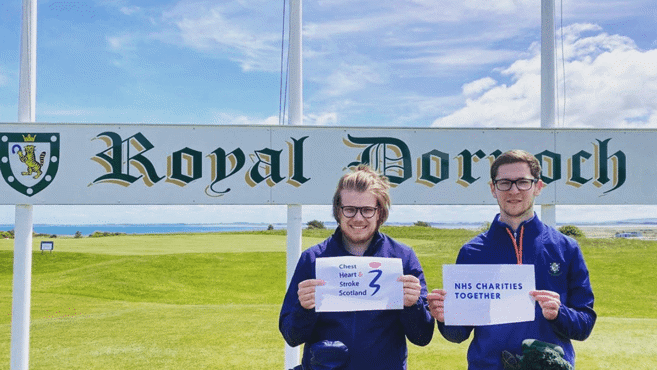 Royal Dornoch's Bradley Smith played his part in helping to raise £14,000 for charity after successfully completing a 'Longest Day Challenge'.
Smith, the Scottish club's retail manager, teamed up with retail supervisor Calum Paterson to help raise funds to support organisations during the COVID-19 pandemic.
The duo completed their energy-sapping challenge on 20th June, starting at 4.12am and finishing almost 18 hours later, playing a remarkable 129 holes across the Championship and Struie Courses.
"Calum and myself achieved something truly special," said Smith. "Coming down the 18th on our last few holes, the crowd that appeared was truly inspirational and kept us going towards the end of a very long day."
Having initially set a fundraising target of £5,000, the duo have almost tripled that figure with £14,000 raised for the valuable work of the NHS and Chest, Heart & Stroke Scotland (CHSS).
Smith added: "This whole project was Calum's crazy idea and what an idea it was! He kept me going all the way through, played amazing golf and won against me by a considerable amount.
"Thank you to all who have donated to the great causes. It has been nice to rest our legs over the last few days!"
The challenge builds on Royal Dornoch's support of local groups and the NHS earlier this year, using a percentage of the net green fees from visiting players.
With the club and most other groups closed during the coronavirus crisis, the Dornoch Area Resilience Project was given £5,000 for various projects, including providing every young person in the town with an activity pack. Another £5,000 was donated to the NHS in Sutherland.
In addition, the club donated five tablet computers to Dornoch's two care homes to enable residents to keep in touch with relatives during lockdown.