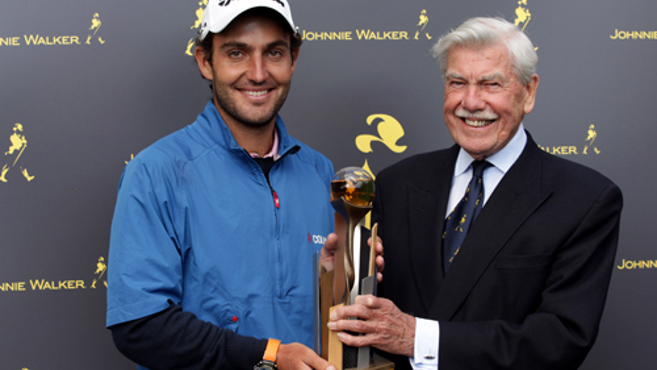 The PGA is greatly saddened to report that Lord Macfarlane of Bearsden, a Vice-President of the Association and staunch supporter of the Ryder Cup and professional game in Scotland, has died aged 95.
Born Norman Macfarlane in 1926, he was knighted in 1983, created a life peer in 1991, became a Knight of the Thistle five years later, and was awarded the Freedom of the City of Glasgow in 2007.
He was also the recipient of a PGA Lifetime Achievement Award in 2013 for his outstanding contribution to golf and support of the Association.
Those honours reflected his prowess as a businessman as well as a generous supporter of sport and the arts.
He was instrumental in Glasgow becoming the European Capital of Culture in 1990 and chaired the committee that oversaw the refurbishment of the city's Kelvingrove Museum and Art Gallery, raising £13.5m to complete the works.
Lord Macfarlane's career in the commercial world was similarly impressive and influential.
Described as a 'towering figure in Scottish business and society', he founded the Glasgow-based commercial stationery company that bears his name and, having served as its chief executive, retired as chairman in 1998.
Lord Macfarlane (pictured above with Edoardo Molinari at Gleneagles in 2010) was also chairman of United Distillers after he joined Guinness in 1986 as part of the merger with United; later he became president of Diageo, the company that was the product of the merger involving Guinness and Grand Metropolitan.
It was through these roles that Lord MacFarlane's long association with and enthusiasm for the Ryder Cup was born. And it was on his watch that whisky brands Bell's and then Johnnie Walker sponsored the biennial contest between Europe and the USA.
"Johnnie Walker took over from Bell's in 1987," recalled former PGA chairman, Dr Phillip Weaver. "And they did it very well. Which was only to be expected from a company associated with Norman.
"He was unfailingly polite and smartly dressed – always in jacket and tie – and always on time. Despite his achievements he was never boastful nor forceful; he only offered advice if asked for it."
Lord Macfarlane was also devoted to Greta, his wife, a devotion that was clear when the Team Europe PGA party was en route to the 2004 Ryder Cup at Oakland Hills, near Detroit.
"It was the first time we had flown Virgin Atlantic, and Lord Macfarlane and Greta were in the upper-class section of the plane," Dr Weaver added.
"Just before take-off Norman came down the stairs and asked Michael and Angela Bonallack if they would like to swap seats.
"The reason was that his and Greta's seats in upper-class were positioned in such a way that they could not hold hands, which was something they always did on flights, especially during take-off and landing. It was very touching."
Oakland Hills was just one of the Ryder Cup matches the couple attended at home and abroad over the years, a total that was well into double figures.
"Lord Macfarlane and his wife Greta were familiar and welcome guests at Ryder Cups dating back to the 1980s," added Robert Maxfield, the PGA's chief executive.
"He was also a great supporter of the PGA in Scotland as well as being a generous benefactor, so it was fitting he was the recipient of a PGA Lifetime Achievement Award in 2013. Above all, Lord Macfarlane was a loyal friend who will be much missed."
In addition to sponsoring the Ryder Cup, Diageo supported the Tartan Tour's Scottish PGA Professional Championship and Lord Macfarlane was present when the PGA in Scotland's headquarters at Gleneagles was opened in 2002.
David Longmuir, the current PGA in Scotland manager, first encountered Lord Macfarlane in 1985 and subsequently developed a close and long-standing friendship.
"He was an honorary president of the Scottish Football League, which was when I got to know him," said Longmuir.
"It was when I was working for Diageo looking after Bell's sponsorship of the League and he was the company's chairman.
"He also made friends with golfers on both sides of the pond. He was friends with all the Ryder Cup captains – Tom Watson, Jack Nicklaus, Bernard Langer to name but a few. He knew them all personally.
"His life was one of magnificent service for everything he was involved with, and from a PGA perspective, he was the finest ambassador we could wish for."
Lord Macfarlane is survived by Greta, four daughters and one son. The PGA extends heartfelt condolences to them, his other family members and legion of friends.