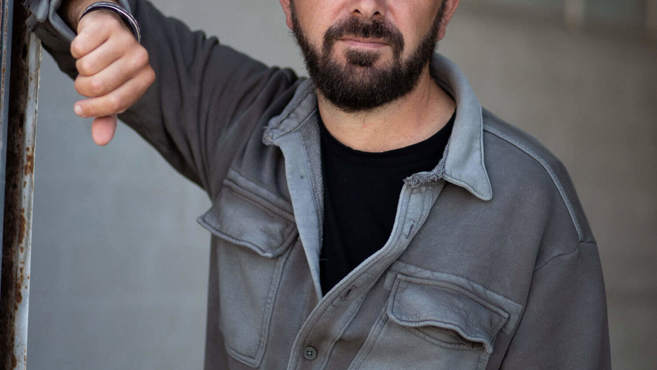 PGA Member Louis Wolcott traces his journey from working as an assistant professional at Marriott St Pierre in Chepstow in the mid-90s, to his current role running online golf apparel retailer TrendyGolf.com's US operation in sunny California.
How did you first get into the golf industry?
When I was growing up, my dad was involved with golf retail and owned a couple of shops, so I started out working with him, primarily on the apparel side of things and also with equipment.
I grew up in the Cotswolds and started my first proper job in 1998 working as a PGA assistant at Marriott St Pierre in Chepstow, which was the nearest top-level course to where we lived. I was mainly working in the shop and helped with retail. Mid-way through my four-year time there I realised that I was never going to make it as player, and I wasn't that interested in coaching, so I began to look at alternative opportunities in the golf industry.
It's a bit of a long story, but Stephen Follett, the then Director of Golf at St Pierre, went out to the PGA Show in Orlando back in 1999 and met Johan Lindeberg, the Swedish fashion designer, who was exhibiting his first range of golf apparel at the show. Stephen and Johan became friends and St Pierre became the first club in the UK to stock J Lindeberg apparel.
I really liked the brand from the start. The bold, bright colours and the tight-fitting designs were very different than anything else out there, and I was wearing it all the time. I got to know Johan through Stephen, but after I finished my PGA training I got some backing from a club member to set up a business running corporate golf days. I did that for a while, and then out of the blue I got a call Johan saying that he was looking for someone to run his new sales operation in the UK and would I be interested. To be honest, all I was initially interested in was getting free clothing, so it was quite appealing. They already had a UK agent that had sold it into a few stores, but they were looking for someone to concentrate on developing the brand in the UK. So, I went to meet Johan in London, we shook hands and it kind of went from there.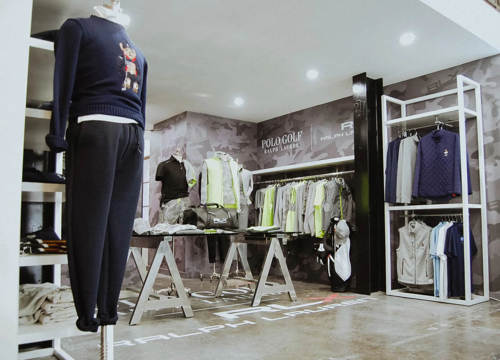 How difficult was it to sell what was a pretty much unknown brand into pro shops in the UK back then?
It wasn't completely unknown. At the time, J Lindeberg was being worn on tour by the likes of Jesper Parnevik and Freddie Jacobsen, so it had a cool Swedish vibe that seemed to resonate with people. Within six months we had probably opened 50-plus accounts, including Royal Birkdale and Sunningdale. We targeted high-end clubs, as it was quite expensive stuff. The idea of paying £75 for a belt must have seemed quite ridiculous back then, but it wasn't long before all the young pros were wearing those belts with the big 'JL' logo on, while the polos and those white trousers were also extremely popular. As I said, we weren't in many shops, but some customers were driving two or three hours to get to their nearest store to buy JL gear, such was its appeal. It was before the internet, so if you wanted to buy something you had to physically go and find it. That gave the brand something of a mystique about it, and it all helped drive sales and increase brand recognition.
How did your association with TrendyGolf come about?
Ian Mcleod and Ben Woods founded TrendyGolf.com in 2004 as an online golf apparel business. They approached me a year before they launched and asked whether I would be interested in letting them sell J Lindeberg on the website, as they loved the clothes and thought that it would do well online as it was so hard to come by in pro shops.
We agreed to that, but only on the proviso that we weren't the only brand on the site, so I introduced them to other premium golf brands like Ralph Lauren and Hugo Boss, so there was a few other high-end labels to populate the site. As I said, they launched TrendyGolf in 2004 and it was pretty much an instant hit. Four years later, Ian and Ben wanted to launch it in the US, and I agreed to help by investing and using my contacts to help set up the business, but I was a silent partner while I continued my wholesale career.
You left J Lindeberg in 2008 and joined Lyle & Scott as head of global golf sales. How did that come about?
That's another long story, but the short one is that Johan left the business. I was very close to Johan and when it came under new ownership the business was restructured and my contract was terminated. I joined Lyle & Scott in 2010 and spent a several years there helping to reposition the golf collection and open new distribution channels around the world. It was great to understand and appreciate the heritage the brand had.
And then you joined Wolsey in 2012?
Yes, it all gets a bit intermingled at this point, as I got another call from Johan around that time. He had set up another fashion brand called BLK DNM and he had just got some new investors, the Hargreaves family, who own Matalan and many other fashions brands, including Wolsey.
Wolsey is the oldest clothing brand in the world and was a very successful brand back in the 1960, 70s and 80s, sitting alongside the likes of Slazenger and Pringle. Anyway, the Hargreaves family asked Johan to help relaunch Wolsey Golf, and he asked me if I'd help him and I joined Wolsey as group brand director. Our first decision was to modernise the brand, but to keep true to its heritage in knitwear and underwear. We sponsored a few British tour players, including Eddie Pepperell and Robert Rock, to help give it a bit more credibility and exposure on TV.
It went full circle when we started selling Wolsey apparel into TrendyGolf. Through my connection with TrendyGolf, the Hargreaves family got to know Ian and Ben, and they liked the business and saw the potential that it had to grow, so they bought equity in the company.
We also saw an opportunity to utilise the connection between Wolsey and TrendyGolf, so in 2016 we decided to set up Trendy Sports Agency that myself and Rob Bundy managed, we would wholesale Wolsey and other premium brands that had reached out to us for help, including G4, Alfred Dunhill, Lacoste, Dunning, Flexfit, Seamus, Jones Golf Bags, Orlebar Brown and Maui Jim – it was a busy time.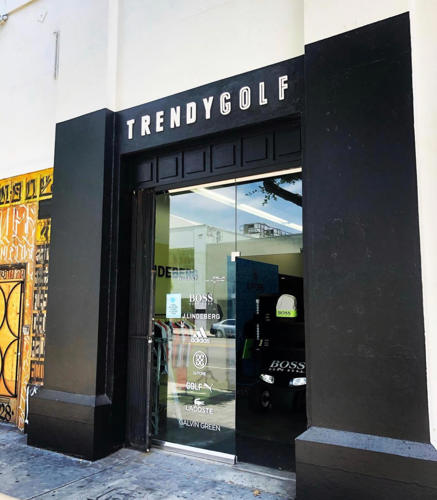 So what made you move to the US side of the business?
The US office was being run by Adrienne Cass, who was originally one of J Lindeberg's key account managers in the US. She set up TrendyGolf's US office in 2009 and had been running things from the start. However, she decided to leave in 2018 and we were left in kind of an emergency situation where someone who understood the American market was needed to go out there and take the reins. I had always wanted to live in California, and for some personal reasons didn't have a lot that was holding me back in the UK, so it didn't take very long to come to the decision that that person was going to be me. I booked a one-way ticket to Los Angeles and haven't looked back.
How many staff do you have working for TrendyGolf?
We currently have 15 people working in the US office in LA, and around 30 people globally. We outsource certain bits and pieces, but we do all of our own buying, marketing, warehousing and photography under one roof, so the majority of what we do is in-house.
How was the business impacted by the pandemic?
It was tricky when everything was shut, as, like everyone, we wondered what the future would hold. But things bounced back very quickly, and our turnover has nearly tripled in the last three years. That's through a combination of shops being shut, but people still playing golf, but also because people have got a lot more comfortable about buying clothes online.
Obviously, the retail landscape has changed hugely over the last decade, but I still see the apparel business being a hybrid, with space for bricks and mortar retailers and online operations. Sales of golf apparel will always remain strong in pro shops, as members like to buy club logo clothes, which you can't buy anywhere else. But perhaps from general apparel, and a hardwear point of view, the modern pro shop could become more of a showcase for their online sales.
Who is the typical TrendyGolf customer?
Our audience is probably slightly younger than your average golf club member, 25-45. The gender split is different in the US than it is the UK. In the US around 30% of our customers are women, while in the UK its closer to 10%.
Living, as I do, in California, I find that men are a lot less conservative in what they wear on the golf course than they are in the UK, and the same goes for lots of the main golf states in the US, like Florida. Guys go to the golf club wearing their gym kit or just their normal leisure clothes and they sit in the bar to have breakfast with jeans and trainers and whatever on with a hoodie, so lifestyle brands are more popular here than traditional golf apparel brands.
I'm guessing TrendyGolf has shifted a few hoodies over the last two years?
Yes, the hoodie in all its forms has been one of our best-selling products across the board. I'd never had Tyrrell Hatton down as being a needle mover in golf fashion, but when he started wearing that adidas hoodie in 2020, they really took off. And then we saw the US team wearing an RLX Hoodie at the Ryder Cup at Whistling Straits.
Fashion is not always easy to predict and that is certainly one that I didn't see happening so quickly, but more and more influences are coming from the high street, and that's symptomatic of the general relaxation of dress codes in golf and the desire for golf to be seen as more welcoming to those that are new to the sport.
Golf clubs have to have certain boundaries on what you can wear, as you don't want people rolling around in ripped jeans, but I do think that golf has to modernise. It should be OK for people to play golf in proper golf attire and then to be able to sit in the clubhouse wearing a pair of jeans and trainers afterwards. It's a social activity, it should be like going to a bar or a club or whatever it is it. I think it's going to change, and you can already see that with places like The Grove and those types of resorts that are more accessible and more in tune with modern thinking,
What are the plans to develop TrendyGolf USA going forward?
In the US, we're still only scratching the surface, because America is so big. We have huge growth plans over the next five years and also want to open our own concept golf stores across the country. Globally, Asia is obviously on the radar, but it's tricky out there because you have to have a local licencing partner, and every country has different requirements, so there a few more hurdles to jump.
What advice would you offer to a PGA Member thinking of focusing on the retail side of the business as a career?
I guess you need to understand what gets you excited about golf and where your passions lie. Don't be too quick to categorise yourself as being one thing or another. Be a chameleon. As I said before, I knew early on that I wasn't going to be a player or a coach, but I was always fascinated with the buying and merchandising side of things and that was the route that I took.
My PGA training really helped with this and gave me the platform to develop my career in the direction that I chose. PGA training gives you a rounded perspective on all aspects of the industry and gives you an understanding of working practices that can be applied across a whole range of careers. We're all essentially working in the people business and the hospitality business.
My other piece of advice would be to be a sponge. Soak up all the experiences you can and never stop learning from other people. The PGA is a network of incredible people with so much experience to share. I've certainly met some amazing people through my PGA connections, and it has opened doors for me that might otherwise have remained closed.
And finally, do you have any retail tips for selling apparel? 
In my experience, people want quality and are willing to pay for it. It should never be assumed that cheaper products will sell well simply because of a lower price. It's all about understanding the needs of the consumer, not just what you, as a retailer, like. Rather than following what everyone else does, it's vital to stand out from your competitors. It's about being one step ahead, offering a different selection, while always keeping your customers' needs at the forefront of your mind.
Louis's career timeline
2018 Managing Director, Trendy Golf USA, California
2016-18 Director, Trendy Sports Agency, UK
2012-16 Group Brand Director, Wolsey Ltd, UK
2010-12 Global Golf Sales, Lyle & Scott, UK
2002-2008 Global Brand Manager, J Lindeberg, UK
1998-2002 PGA Professional, Marriott St Pierre, UK