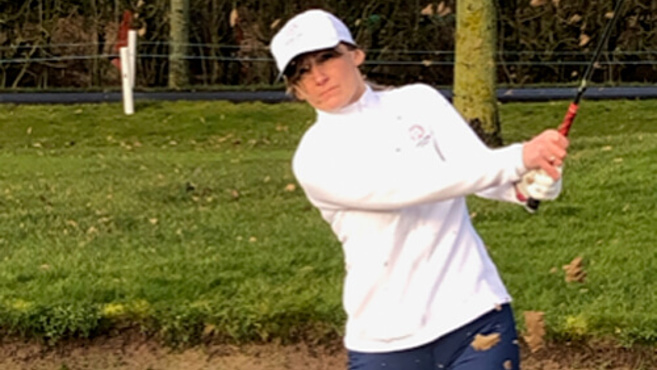 Lysa Jones, the lead coach at PGA Master Professional Graham Walker's academy in Yorkshire, has been included in the 19-strong group of women identified by UK Sport as having the potential to coach at the 2024 Olympics and beyond.
The creation of the group marks the start of UK Sport's leadership programme for women coaches that aims to more than double female representation in the Olympic and Paralympic high-performance community by Paris 2024.
The six-month long programme will offer the 19 participants key support and development opportunities and focus on three key areas: leadership, environment and transition.
In addition, they will be given times to observe one of eight assigned coach leaders working in their respective environments; Jones will join fencing's Katie Arup in observing Claire Morrison, a performance coach at GB Boccia, one of just two Paralympic sports that has no counterpart in the Olympic programme.
Commenting on her inclusion on the programme, Jones said: "I am incredibly proud and humbled to be part of UK Sport's female coaches leadership programme.
"The opportunity to observe and learn from coaches who have been party to winning Olympic medals such as hockey's Karen Brown and diving's Jane Figueiredo is both invaluable and inspirational.
"As an England Golf coach working with our next generation of elite golfers, I am passionate about addressing the current under-representation of female coaches in UK sport and so to be involved with this initiative is really important to me.
"I am one of only a few female golf coaches and so to inspire and empower other women to follow their coaching goals will be a wholly rewarding experience and one I'm relishing.
"I'm intrigued to pick up ideas from other sports that will help me grow as a coach.
"I take great pride in seeing players progress but I've always had the drive to keep developing and pushing myself. I've always had that appetite to learn and although I'm a coach I'm not afraid to be a pupil and learn new things.
Jones is golf's sole representative on the programme and her inclusion is her latest recognition at national level.
She holds the distinction of being the only female coach at England level and two of her former students, Ben Jones (no relation) and Callum Farr, have been named in the initial squad for this year's Walker Cup match.
Jones also played to a high level herself, not least participating in Ladies European Tour events and winning the 2005 WPGA Championship, before becoming an accomplished coach.
"Deep down I knew I wanted to be a high-performance coach," said Jones, who has been voted a top 100 UK and Ireland coach and acknowledges the positive influence Walker has had on her career.
"Some 17 years ago now I got the chance to work with Graham and have never looked back.
"Graham has been brilliant for me and I remember when I first applied for a job as a regional coach with the England boys' squad.
"I wasn't sure I'd get it as a woman but Graham set me straight and told me not to think about male or female candidates, simply to focus on being a coach.
"I ended up getting the job and it's been a fantastic journey."