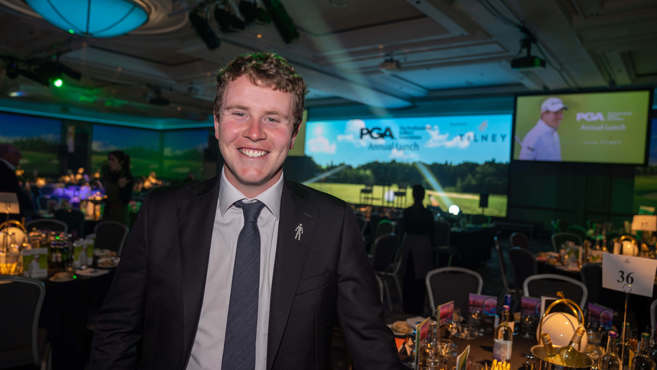 There have been plenty of glasses raised to Robert MacIntyre's accomplishments in recent years. At the Hilton Hotel in Glasgow this week, a few more toasts were made to the Oban lefty as the 25-year-old held court as the Guest of Honour at The PGA in Scotland's lunch.
"It just shows I must be doing something right if I'm getting this kind of recognition," he chuckled as he became the youngest Guest of Honour in the 20-year-history of this annual celebration of golfing endeavour, excellence and achievement.
With the kind of rapid rise you tend to get with vessels of space exploration, MacIntyre has packed a lot into a professional career that's barely five years old.
A Rookie of the Year award in 2019, a maiden DP World Tour title in 2020, a top-six finish on his Open debut and a share of 12th on a maiden Masters appearance? It's a pretty decent CV already but the driven, determined MacIntyre is hoping there is much more to come.
"I have achieved a lot but, to be honest, I feel I should have won more," admitted the young Scot. "I feel I should have had three or four wins by now. But to win on the Tour is one of the hardest things in the world. There are 156 guys most weeks and there's just one winner.
"I hate losing. You play to win. I've always been like that. I know people say it's good to just be involved in any sport but, for me, I've always played to win whatever I'm doing. It shouldn't matter where you come from either. If you have the drive to do it, then you can achieve anything."
In this game of fickle, fluctuating fortunes, you never know what the golfing Gods have in store. MacIntyre is well aware of that. "You can never take anything for granted in golf," he added. "You don't know how long you've got out here, you don't know if injuries will come. Nothing is certain. The second win is hard to get and I could be waiting a long time. Some players never get that second win. It's hard to predict but hopefully it's not far away.
From modest golfing beginnings, MacIntyre, through hard work, wonderful natural talent, a strong competitive instinct and a tight-knit support system, has propelled himself into the global game's elite.
He has achieved things in a few seasons that many touring golfers will never experience and all the while it's been done with an endearing nature that's as down to earth as a muddied shinty stick.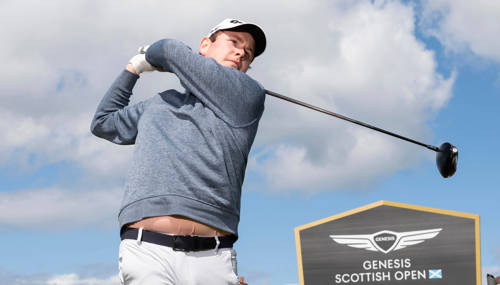 "We didn't have much money when I started out in golf," said MacIntyre, who still makes regular outings amid the crash, bang, wallop of the shinty field when he's not crossing swords with some of the world's best golfers.
"My two older sisters were right into their horses. I got my dad's old golf clubs cut down. Nowadays, I get clubs thrown at me. It's quite the change. My mum and dad were working numerous jobs to allow me to travel around on the amateur circuit and have the chance to be the best I could be. My sisters gave up their horses too. It's paid off now, though."
Despite his globe-trotting, MacIntyre is always at his happiest when he is in his Oban home. "I can just be me," said MacIntyre, who has no plans yet to relocate from his scenic, soothing west coast base.
MacIntyre will return to his own backyard in August to compete on the Arnold Clark Tartan Tour as the star attraction at the Iain Forgrieve Memorial Pro-Am over the delightful Glencruitten course where MacIntyre learned his craft.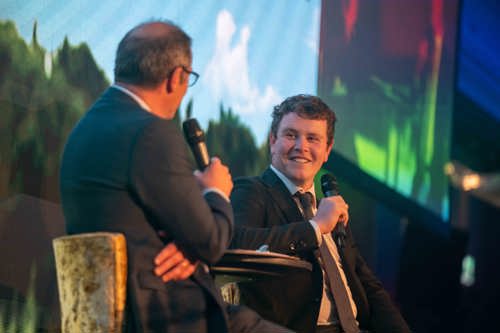 "It will be a great day for the club and the date is perfect for me with a break in my schedule," he said of this homecoming. "I'm delighted I can support it and gave it a bit more profile."
MacIntyre's profile, meanwhile, continues to grow and the Guest of Honour accolade from The PGA in Scotland was another moment to savour.
"It's a great honour for me and I'm very thankful to The PGA," he said of the invitation to the Glasgow shindig. "The support I've had from all over Scotland has been out of this world. It really helps push me on.
"Golf clubs wouldn't run smoothly without the PGA pros. There are career paths for everyone in golf. I'm doing my own thing but for others, The PGA route is a great way to do it."
Plenty will raise a glass to those sentiments.