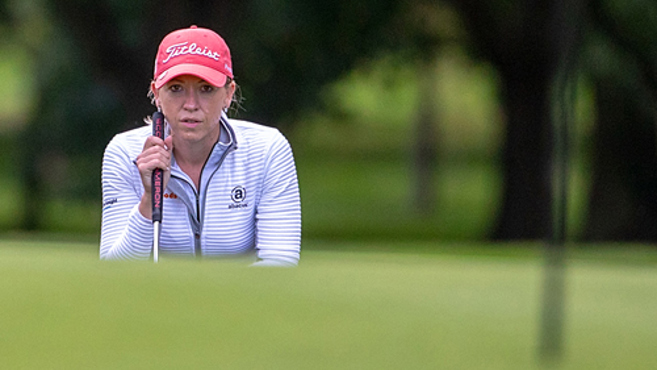 Heather MacRae will bid for a hat-trick of victories in the OCEANTEE WPGA Championship without the black cloud of ill health hovering over her or a lack of meaningful tournament action.
The 37-year-old Scot mounted a successful defence of the title she won at Trentham Golf Club, Staffordshire, in 2019, a year ago at Kedleston Park, Derby.
However, her build up to those events contrasted sharply with her preparation for this year's tournament which returns to Kedleston Park, an Open Championship qualifying venue.
MacRae was days away from undergoing major surgery to cure cervical cancer when she won in 2019, and the run up to last year's event was blighted by the Covid-enforced lockdown.
There have been no such worries nor hindrances this time, though.
"I've been playing on the Ladies European Tour for the past fortnight," she said, having just arrived at Stansted on a flight from Amsterdam after competing in the Big Green Egg Open.
"I had three good rounds and one not so good there but my form has been pretty good. I've played four of the last five LET events and made the cut in three of them.
"I've been playing pretty decent but don't think my scores have been as good as I've been playing. Even so I'm happy with how my game is.
"I'm certainly enjoying playing and am looking forward to playing at Kedleston again. I like the course and have got the chance to win three in a row, which would be nice."
Should MacRae complete the hat-trick, claim the £1,000 first prize and have her name engraved on the refurbished trophy, she will emulate the achievement of Tracy Loveys.
In addition, she will join Loveys as the tournament's most successful player with four victories.
In that respect, however, she harbours a caveat regarding thoughts about setting or equalling records.
"This tournament is a bit different to the others," added MacRae, who represents Gleneagles Hotel. "I probably put a little bit more pressure on myself to win it.
"I haven't had that for the last few weeks – I've just gone out and played and enjoyed being out there.
"I'm not going to think too much about winning it three or four times, I just want to play and hopefully get some good scores, which I feel I've been missing the last few weeks."
Given the quality of the opposition in the tournament, which boasts a new headline sponsor in sustainable golf brand OCEANTEE, good scores will be essential if MacRae is make a successful title defence.
A quintet of former champions will be in the field at the Derbyshire venue comprising dual major winner and Solheim Cup captain Alison Nicholas; Keely Chiericato, who defeated MacRae in a play-off to win in 2018; Marie Martindale, the 2011 champion; Catherine Panton-Lewis, the winner in 2007; and Alison Gray, the first winner of the competition in 2002 and the following year.
In addition to joining this roll of honour, this year's winner and those who finish second and third will earn a place in final qualifying for the 2021 AIG Women's Open at Carnoustie.