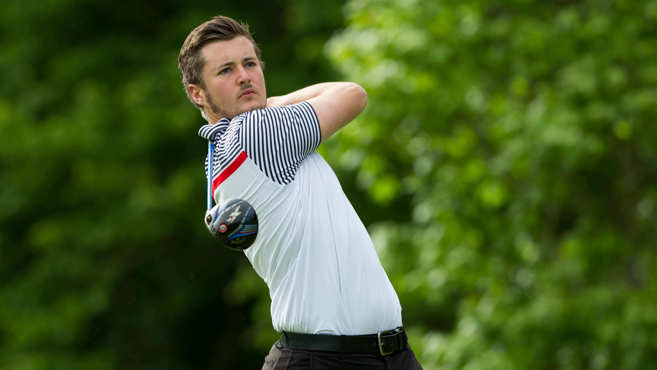 The venue for this year's Asbri Welsh PGA Championship, Conwy Golf Club, will present a fresh challenge for the tournament's most recent winners, Sion Bebb and Toby Hunt.
Both are based in south Wales - Bebb at Morlais Castle, Merthyr Tydfil, and Hunt at St Mellons, Cardiff – and Conwy is an unknown quantity.
"I've never played there but I'm looking forward to it," admitted Bebb, winner of the tournament on three occasions, the last time at Celtic Manor in 2017.
Hunt, by contrast, has played at the venue that will stage the 2020 Curtis Cup before but his memories are sketchy and his performance forgettable.
"It was about 10 years ago and I don't remember much about it," he said. "I think I had an NR (no return)."
Hunt, who claimed the crown at Ashburnham, goes into the defence of his title boosted by victory in the PGA West Region Championships at The Players Club, Bristol.
His three-shot victory in the rain-plagued Marstons-sponsored tournament ended what he described as 'weeks of struggle'.
"My form over the last six weeks has been shocking to be honest," the 26-year-old admitted.
"I've struggled to hit the ball off the tee. I've struggled with my putting and I've struggled mentally. My eight-under-par first round of 64 came out of nowhere and was very welcome.
"After the problems I've had with my game leading up to this tournament, this is a massive confidence booster and a relief going into the Welsh PGA Championship."
Should Hunt make a successful defence of his title, he will become only the 10th to do so since the tournament was first contested in 1904, just three years after The PGA was formed.
He and Bebb (above) will be members of a quartet of former champions competing in the tournament, which carries a £9,650 prize find with £1,500 going to the winner.
They will be joined by the 2013 winner, Lee Rooke of Royal St David's, and Asbri Golf's Richard Dinsdale who will fly the flag for the sponsors.
Dinsdale claimed the title at the Vale of Glamorgan 20 years ago and goes into the tournament having finished tied second behind Hunt in the PGA West Region Championships.