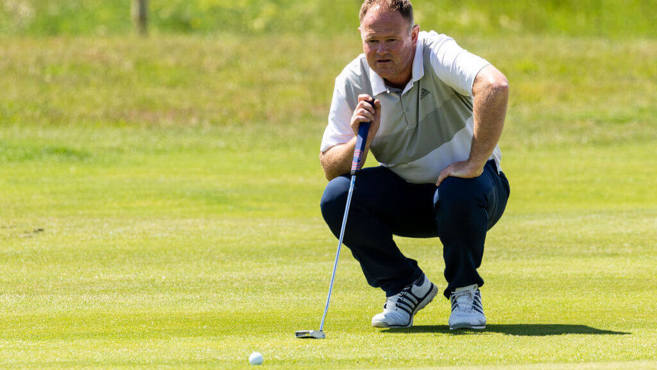 There are occasions when a sporting or artistic performance transcends superlatives. Alastair Forsyth's negotiation of the back nine in the second round of the Titleist and FootJoy PGA Professional Championship at Hunstanton is one such.
In this case, figures and not adjectives tell the story. Seven of the holes were birdied as the Scot posted a nine-under-par round of 63 to not so much put a cushion of protection between him and his rivals but a chasm.
The 43-year-old's lead at the half way stage of the tournament is seven shots but, with two rounds to go, he realises it's not unassailable.
Fifteen years on the European Tour, have told him that. And with some accomplished performers in his slipstream, not least compatriot Paul O'Hara and England's James Freeman, he is taking nothing for granted.
O'Hara, who won the event in 2017 and was runner up last year a shot clear of Freeman, head the pursuing posse on nine-under.
Paul O'Hara
James Freeman
"There's still a long way to go," said Forsyth. "Anything can happen, especially if the weather turns – that could change things. And there are some very good players behind me."
Several of those are Scots: Freeman is the Anglo filling bookended by O'Hara and Christopher McMaster who is tied fourth with Matthew Tottey of Wales on eight-under, while Greig Hutcheon and Graham Fox are a shot further back.
"It's good to see my fellow countrymen doing well," added Forsyth, who qualified as a PGA Professional in 2015.
That followed a decade and a half on the European Tour during which time he won the Malaysian Open in 2002 and Madeira Islands Open six years later.
Which probably explains his matter-of-fact view of a round that, one shy of the course record, has made the £10,000 winner's cheque his to lose.
"I guess it's up there with the best of them," he said. "I'm playing as well as I can play and all parts of my game came together."
As, on reflection, they did in the first round when Forsyth ended it on seven-under, level with Freeman.
There was no hint, however, of what was to come in round two when he reached the turn in two-under thanks to birdies at the par-five second and par-three fourth.
What followed was akin to watching a juggler become so confident in his ability that he continues to add objects to keep aloft until he has the entire contents of a house under control.
He began the back nine with four birdies on the bounce, made par at the 14th, and then added three more before just failing to complete another quartet at the 18th when a 10-foot putt refused to adhere to the script.
While Forsyth wrestled with the positioning of his round in his portfolio of golfing achievements, Matthew Fieldsend (above) was in no doubt about where his eight-under-par 64 stood in his short career.
"It's my best to date," said the 24-year-old who won the then Galvin Green-sponsored PGA Assistants' Championship at Coxmoor two years ago.
Fieldsend could also afford a bogey in a round that has left him tied sixth on seven-under with Hutcheon, Fox, Paul Hendriksen, Jason Levermore, Simon Lilly and Matt Cort.
Not that he was neither surprised nor disappointed his score had been surpassed.
"I had a feeling someone would beat it," said Fieldsend, an early starter in the second three-ball of the day"
"The conditions were perfect for putting a good score together. There was not much wind and, although different to yesterday, it did not cause many problems.
"And overnight rain made the course soft and helped negate the unpredictable bounces you can get on a links course."
Bounces, meanwhile, were not involved when Jordan Godwin (above) produced the shot of the day – an ace at the par-three 16th.
Despatched with a six-iron, the ball landed directly in the hole 193 yards away to help Godwin join another Scot, Craig Lee, in posting the third best round of the day - a seven-under-par 65.
Leading scores: A Forsyth (Mearns Castle) 128 (-16); P O'Hara (North Lanarkshire Leisure) & J Freeman (Retford Golf Club) 135 (-9); C McMaster (Downfield Golf Club) & M Tottey (North Wales Golf Club) 136 (-8); M Fieldsend (Drayton Park Golf Club), G Hutcheon (Torphins Golf Club), P Hendriksen (Ivybridge Golf Club), Graham Fox (Clydeway Golf), J Levermore (Little Channels Golf Club), S Lilly (De Vere Staverton Estate) & M Cort (Beedles Lake Golf Club) 137 (-7).
Full scores can be accessed via:
https://pgagbi.bluegolf.com/bluegolf/pgagbi19/event/pgagbi19509/contest/13/leaderboard.htm