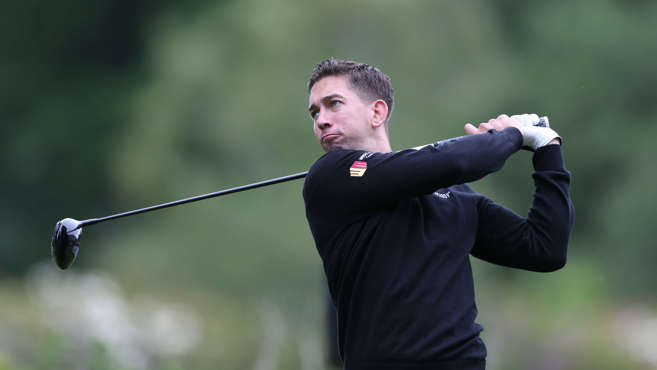 A busy 'moving day' has shaken up the leaderboard at this year's PGA Professional Championship with Ashley Mansell taking a commanding three-shot lead heading into the final round at Slaley Hall.
Three players scored tournament low rounds of 67 to jump up the leaderboard. The most notable came from the 54-hole leader Mansell who will be hoping to add his name to a long list of prestigious winners.
Mansell started his round with three birdies in three holes and took advantage of a generous front nine, making the turn in four-under-par. His one bogey of the round on 13 was instantly negated by a birdie on 14, as Mansell raced clear at the top of the leaderboard.
The final four holes have been a challenge all week but not for Mansell as he birdied the 17th and produced a fantastic par save on 18th to give the Clevedon Golf Club pro a commanding lead.
When asked about his chances of winning, Mansell said: "I feel good, especially after today having putted much better than I have done so far this week, so to go out there and putt like that was a relief."
Mansell may be leading the PGA Professional Championship, but Alex Wrigley will certainly be a serious contender heading into the final round.
Wrigley's round of 67 on day three was fantastic, but it could have been record breaking if it was not for a difficult finishing stretch.
The Hartlepool professional was an astounding eight-under-par after 13 holes and was threatening to break the course record at Slaley Hall. Richard Green's round of 64 has been unbeaten since 2001 but was under serious threat going into the final stretch of holes. Unfortunately, a few shots got away from 2019 PGA Cup player Wrigley in the difficult closing holes, but he will be full of confidence ahead of his tee time tomorrow morning.
Slightly lower down the leaderboard, former European Tour player Robert Coles also scored a 67, made even more remarkable as he was not using his own driver.
Coles had to borrow a driver after his shaft snapped prior to his third round, but it did not affect his game. The Golf Kingdom professional will tee off at 10:30am on the final day hoping to post another low round to put pressure on the leaders.
Elsewhere, David Higgins, Simon Thornton and Simon Lilly showed their class and all sit within touching distance of the leaders.
Also seen around the links was Great Britain & Ireland PGA Cup Captain DJ Russell, who will have some interesting decisions to make, as he ponders his Captain's Pick for the match against the PGA of America in September.
CLICK HERE to view live updates from the PGA Professional Championship.