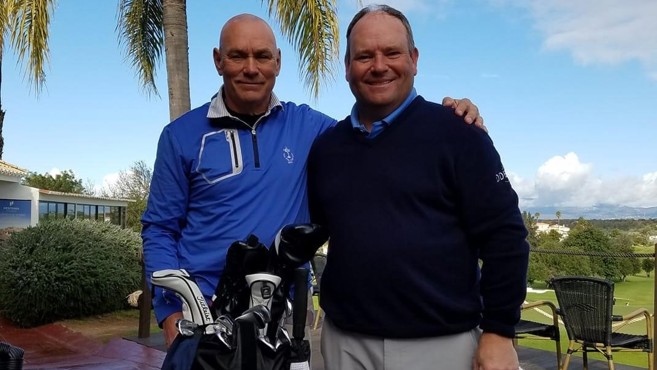 PGA South West tournament team member and PGA Cup caddie Steve Roberts will either be super fit for the new season or on his knees after running 20 fundraising marathons in as many days.
Roberts, who has worked for the region for 10 years and caddied for Michael Watson (above right) and Alex Wrigley in PGA Cup matches, is raising cash for the Royal Navy and Royal Marines Charity (RNRMC) by attempting the Camino de Santiago in April.
The Camino de Santiago is a network of ancient pilgrim routes stretching across Europe that come together at the tomb of St James in Santiago de Compostela in north-west Spain.
Carrying a rucksack that, weighing 25 lbs, will contain his kit plus daily supplies of food and water, the 66-year-old will run the 500-mile-long Camino Francés section that begins near Biarritz in south-west France.
"The first day involves 6,000 feet of climbing over the Pyrenees," said Roberts. "But I've been training hard, spending a couple of hours each day running with my big pack on.
"I do lots of ultra-distance running and I'm pretty healthy – I can still do 12-minute miles with my full pack on.
"The cause is one I believe in. I was an officer in the Royal Navy for 32 years and I was also awarded a Green Beret, so my hat is in both camps.
"That's the only job I've had - I don't count the PGA as a job because I love doing it. I've had a great time mixing with the pros and it's a real pleasure going to regional events. I've also caddied for some of the boys."
Roberts aims to complete the 500-mile trek in 20 days but that is not the only challenge he has set himself.
His sister, Linda, is also an ultra-distance runner who lives in California, and she will be attempting the trek as well. Roberts, however, is giving her start.
"She and her running partner, Gina, will start 10 days before me I'm going to try and catch them up."
CLICK HERE to find out more about Steve Robert's charity run or to make a donation.