It is the latest plum job in Matt's upwardly mobile career that has been based on the sure foundations of the Applied Golf Management Studies degree, run in partnership by The PGA and the University of Birmingham.
Bacon, who took up trainee professional status at the start of the third and last year on the course, went straight from graduating with a first-class degree into a role as a golf operations supervisor at the renowned Forest of Arden hotel and country club. Since then he has had managerial appointments at Costessey Park – the Norfolk club where he'd grown up playing – Haverhill in Suffolk and now Eaton.
Bacon, 29, said: "I wouldn't have had the opportunities that I've had if it wasn't for that degree. I certainly wouldn't be in the same position.  I'm still fairly young, but my degree – and the PGA (status) – definitely gives a great foundation to build upon and gives you that entry point for the industry."
As a talented amateur throughout his teens, Matt long held playing aspirations. But his overall passion for the game – and an academic background – meant he never shut the door on other openings the industry might offer.
Indeed, after securing an NVQ in Golf Studies, he funded his competition in high-level amateur tournaments up and down the country with employment at Costessey Park. The latter gave him a host of insights into everyday working life at a golf club – and he rapidly increased his skill set.
"All aspects," he recalls. "I worked in the kitchen, bar and catering, in the pro shop, a bit of green-keeping as well. As a player, I went to actually looking at it behind the scenes.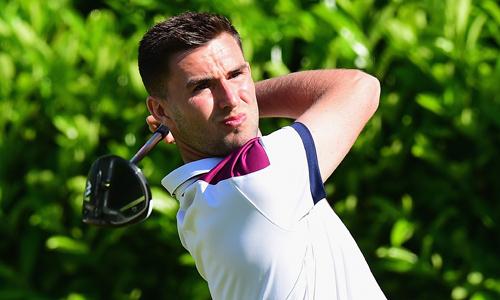 "I still competed and played as much amateur golf as I could. Then it reached a point when I'd done that for two or three years and hadn't progressed quite as much as I'd have liked, so I didn't quite make it into the England squads. At that point, I thought, 'Well, I love working in golf' and was heavily influenced by other PGA pros, so The PGA was something I always had in my mind.
"I intended to do the Foundation degree and then a couple of people that I knew had just gone through the University of Birmingham's AGMS degree. It's a full BSc, based at the university, with every Monday at the Belfry, so you do your coaching side of things.
"I was quite good academically and felt that it (the AGMS) would help to differentiate myself from a Foundation degree. And really at that point I wasn't sure whether I would enjoy coaching more or club management – and I thought the AGMS would give me both options. It gave me the opportunity to go down both routes and I preferred the management side and I think that's where my strengths were."
Matt has been at Eaton since the start of the year. The early months were when the club was closed due to Covid-19 restrictions. But he used the time constructively. There was some interior refurb work to be done, website and marketing refreshers – and time spent deep-diving into how the club and its various committees all worked.
Since Eaton reopened, Bacon has been flat-out busy – like pretty much everyone in the golf industry through the spring and summer months. Workload reached a new plateau in mid-July when Eaton, an impeccably-presented course with pure greens and an overall friendly environment, staged an England Golf men's qualifier (South-East) for a clutch of top amateurs including Walker Cupper Conor Gough and British Amateur runner-up Monty Scowsill.   
"There was a lot going on behind the scenes to ensure that we were ready," says Matt. "I'd played in it six or times and knew the structure but never really paid attention to it as a player – what went into it – so it was really great to be on the other side of things. It was a long couple of days, but the team did a great job and the feedback from everyone was fantastic."
Teamwork. Matt is big on the team ethic and feels it is at the heart of his role to make sure he pulls everything together. And at the heart of that is dealing with everyone you work with or come across in a responsible and considerate manner.
"Managing people and communication is really a key thing," he says, when summing the key components of life as a golf club manager. "You deal with so many different people and environments from members, visitors, staff, suppliers. So, communication is really key and ultimately you're the person who is meant to stitch everything together.
"Ensuring communication between different areas is very important. Everyone from food and beverages knows exactly what's happening on the course, as well as all the greens' staff know exactly what's happening at the rest of the club. I think that's key in making sure the club runs really effectively."
Unsurprisingly, Matt has barely hit a ball since taking over the reins at Eaton. That is unlikely to change in the future. He is committed to Eaton for the long haul and plans to make a very well-run club, at which there's a waiting list and capped membership, even stronger.
"This is definitely a role I see myself in for some time and hope over the next three or four years I can have a real impact," says Bacon.