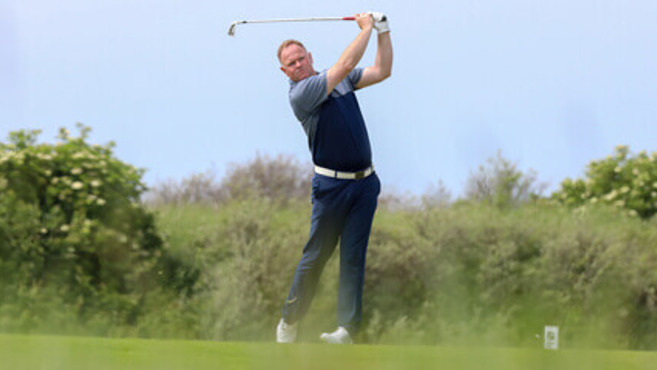 Alastair Forsyth is leaving nothing to chance despite going into the fourth and final round of the Titleist and FootJoy PGA Professional Championship at Hunstanton seemingly home and hosed.
Having missed a trio of short putts en route to posting a five-under-par round of 67 to be 21-under for tournament and 11 shots clear of the field, the Scot headed for the practice putting green.
"I missed quite a lot of putts today," he said. "So I'll see if I can have a wee practice to try and tidy that up.
"Not that I'm complaining - my game's good and the tee to green stuff is still very solid. I'm absolutely delighted with the way things are going.
"Looking ahead, tomorrow's game plan is very much the same as it was today. Obviously I'll have to see what the weather does and if there's a breeze.
"It was different today but similar direction-wise to what we experienced in the practice round.
"Apart from the missed putts, I only made one mistake. I found a bunker on the sixth – it was more a bad shot than a mistake. The rest was very solid."
That bad shot resulted in a collector's item – the 43-year-old's first bogey of the tournament.
Any optimism this rare slip engendered in his pursuers was short-lived, however. The blip was cancelled out with a birdie at the par-five eighth and two more followed on the back nine as, for the third round in a row, he was party to posting the best of the day.
All of which resulted in him not so much consolidating the seven-shot advantage he had at the start of the round but increasing it. He was helped in that respect by Paul O'Hara and James Freeman losing momentum.
Both shared second place on nine-under after 36 holes but Freeman slipped to tied 18th following a round of three-over and O'Hara, who carded a one-under-par 71, lost ground.
Mark Talbott
Jordan Godwin
He remains joint-second, however, sharing it with Jordan Godwin who, with Mark Talbott, matched Forsyth's five-under.
Alex Wrigley also climbed up the leaderboard thanks to a round of four-under and he lies tied fourth with Jason Levermore and Paul Hendriksen, the 2015 champion.
It all adds up to an intriguing final day of reckoning that will determine six places in the 10-strong Great Britain and Ireland PGA Cup team to take on the USA in Austin, Texas, in late September.
Just as Forsyth is not mentally spending the £10,000 winner's cheque before getting his hands on it, neither is he contemplating a trip to the Lone Star state.
"I've had a few comfortable leads in the past but nothing like this," he added. "But I've been in the game long enough to know stranger things can happen.
"I won't be celebrating tonight or anything like that. And I won't be thinking about Texas. You never know what's round the corner, especially in golf. You just stay in the moment and take one shot at a time. It's a cliché but it's very true."
Leading scores: A Forsyth (Mearns Castle) 195 (-21); P O'Hara (North Lanarkshire Leisure) & J Godwin(Barnehurst Golf Club) 206 (-10); A Wrigley (Hartlepool Golf Club), J Levermore (Little Channels Golf Club) & P Hendriksen (Ivybridge Golf Club) 207 (-9); M Talbott (Thorpe Hall Golf Club) & M Ramsden (Renishaw Park Golf Club) 208 (-8)
Full scores can be accessed via:
https://pgagbi.bluegolf.com/bluegolf/pgagbi19/event/pgagbi19509/contest/13/leaderboard.htm