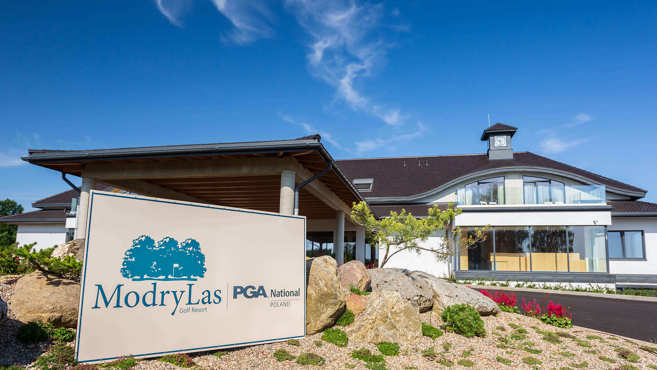 The PGA has expanded its global Branded Properties portfolio with the addition of Modry Las Golf Resort as the PGA National Poland.
Situated within the peaceful West Pomeranian countryside, which provides a beautiful backdrop for the 18-hole Gary Player designed championship course, Modry Las was conceived as a contemporary living community with sporting endeavour at its heart.
Modry Las opened in the summer of 2009 and was the first course in Central Europe to be designed by the nine-time Major and Grand Slam-winning Black Knight. Created as a unique and unspoilt retreat that protects the environment while offering leisure and seclusion, Modry Las is within easy reach of Szczecin and Berlin airports and has been consistently ranked among the top resorts in Europe – it was named Poland's Best Golf Course at the 2014, 2015, 2016 and 2017 World Golf Awards.
Player described Modry Las as a 'classy golf course' and a 'place of natural beauty', with the venue itself evolving in recent years to include a second nine-hole course (Orli Las) and accommodation that echoes its charming landscape including boutique bedrooms in the newly developed clubhouse, 'Swiss-style' self-catering accommodation and six Garden Suites each overlooking the stunning 16th hole.
In addition, the venue also offers a professional golf academy and excellent practice facilities. Arthur Gromadzki, chairman at Modry Las, said the announcement with The PGA was the realisation of the vision for the West Pomeranian resort.
He said: "Modry Las has always been clear about its ambition to be one of the leading golf resorts in Europe. This began with the commissioning of Gary Player to design our award-winning course and continued with our PGA National Academy Course Orli Las and on-site accommodation options.
"Our objective has been to deliver a golf experience that exceeds the expectations of the most widely travelled golfer. The PGA recognised this goal and we graciously accepted their invitation to join the PGA National brand programme."
The PGA restricts its PGA National brand to only one resort per country, all of which offer some of the very best golf, leisure and accommodation possible.
Modry Las joins the illustrious group of other PGA Nationals which includes Ryder Cup venues PGA National England at The Belfry and PGA National Scotland at Gleneagles, as well as PGA National Cyprus at Aphrodite Hills, PGA National Italy at Argentario Resort, PGA National Turkey at Antalya Golf Resort and more recently PGA National Ireland, Slieve Russell, which joined the world class group in May 2019.
All PGA Branded Properties benefit from direct brand association in addition to the specific media, marketing and operational assistance from The PGA to help raise awareness, profile and profitability.
Robert Maxfield, Chief Executive of The PGA, commented: "We are delighted to welcome Modry Las Golf Resort to our exceptional list of world-class PGA Branded Properties.
"The PGA National Poland further strengthens the Association's reputation in Europe and we look forward to promoting Modry Las to PGA Members and golfers across the globe."
For more information about Modry Las Golf Resort click here.