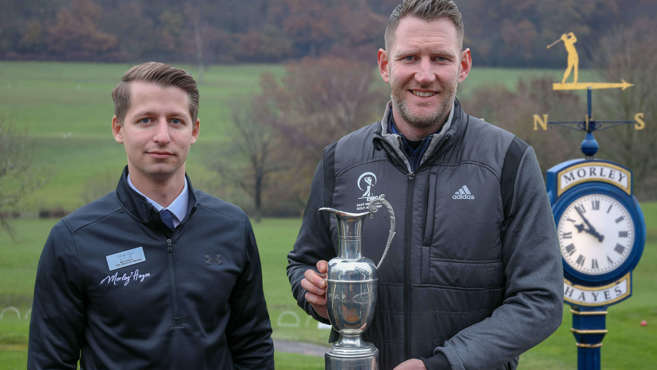 Morley Hayes Golf Club in Derbyshire will stage a new PGA Midland region Order of Merit event to showcase its impressive range of facilities, not least its championship course.
The venue, which stands half-a-dozen miles north-east of Derby and boasts a four-star hotel plus a hi-tech driving range, has not staged a professional tournament for more than decade.
The hiatus will end next year, however, when the Morley Hayes Classic is contested on May 5 and 6.
"The owners wanted to stage another professional tournament," explained the club's head PGA pro James Whatley (pictured above to the right of Max Howard, Morley Hayes golf manager).
"There were four consecutive EuroPro events here from 2002 to 2005 and a Midland Region Order of Merit tournament followed two years after that, so it's been a while.
"There's a championship golf course here and it was felt it was time to hold a championship event on it.
"I was asked my opinion as to what the best event would be and I felt a pro and amateur Midland Order of Merit tournament would be the right formula.
"It's all about showcasing the venue – the four-star hotel, championship course and driving range.
"The owners have spent a lot on the driving range and are continuing to do so with the construction of a new teaching bay.
"It's all about showing what Morley Hayes has to offer - to both pros and amateurs."
The event will be staged over two days and feature a pro playing in tandem with an amateur. Pros will compete for a slice of the £10,000 purse and there will be prizes for pairs and amateurs.
"Hopefully we'll have 80 amateurs coming to play the venue," added Whatley. "And I'm hoping to get as much support from the pros as possible, especially some of the bigger names."
The Morley Hayes Classic is the third PGA Midlands Order of Merit event to be confirmed for next year and will kick off a programme that also includes the Glazerite Trophy and Midland Open.
The former will be contested for the 15th year in succession, again at Wellingborough Golf Club, and the latter, which returns to the schedule after a two-year absence, will be sponsored by and contested at Oakmere Golf Club, Nottinghamshire.
Regional manager James Brown, meanwhile, is hopeful of taking the number of events up to five.
"We're looking to firm up dates for the PGA Midland Pros' Championship," he said. "And I'm currently in talks with a potential sponsor regarding a fifth event.
"The addition of the Morley Hayes Classic is a real boost for the programme and our pros. It's a very attractive and challenging venue. Furthermore, it's a huge compliment to PGA Midlands that the club has chosen us to help showcase its first-class facilities."