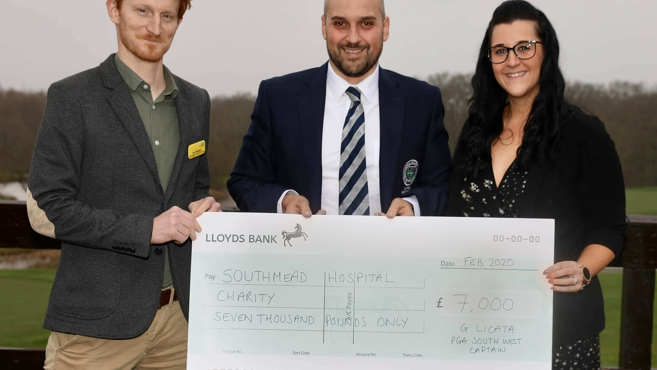 Giuseppe Licata refused to let his new job as head professional at Filton Golf Club, Bristol, and captaincy of the PGA South West region distract him from raising £7,000 for a hospital that saved his daughter's life.
Licata, who has been named the region's Charity Fundraiser of the Year for 2019, chose two good causes to benefit from events he organised during his stint as captain – The PGA Benevolent Fund and Southmead Hospital, Bristol.
The 34-year-old Italian and his wife, Kristina, are indebted to the latter for saving their daughter Alaina when she showed next to no signs of life following her birth.
Recalling the traumatic time, Licata said: "Elena was whisked off into an incubator in the Neo-Natal Intensive Care Unit (NICU) at the hospital within moments of being born.
"Kristina and I were left waiting to hear if we had a new baby to take home and the first time we saw her was in the NICU ward a week later.
"She is now a very healthy and sassy seven-year-old and we can't thank NICU enough.
"It is very close to our hearts and I'm delighted to receive the award as a result of raising funds for NICU and the PGA Benevolent Fund, which helps pros who have fallen on hard times."
Licata's fundraising events included a charity pro-am, an evening with Billy Foster, an in-demand caddy on the European Tour and accomplished after dinner speaker, raffles and collections at tournaments during the season.
In total £8,551 was raised with £7,000 going to NICU and the remainder to The PGA Benevolent Fund.
Picture (from left): Ian Riddell (Southmead Hospital Charity), Giuseppe and Kristina Licata