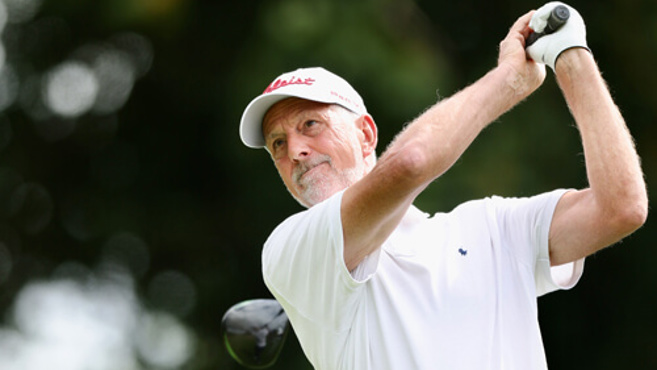 There was a strong sense of déjà vu at Tewkesbury Park when North Wilts Golf Club duo Graham Laing and Steve Cook began the defence of their PGA Super 60s crown.
Indeed, to be pedantic, the pair did not so much continue where they had left off on their return to the Gloucestershire resort but improved on the scores that won them the tournament a year ago.
Having posted Stableford totals of 45 and 42 to claim the £1,250 first prize on their previous visit, they followed up by amassing 47 in the first of the two rounds to establish a two-point lead.
As they had done 12 months previously, Laing (above) and 13-handicapper Cook 'ham and egged' perfectly on the outward nine, contributing 12 and 11 points respectively.
On the way home, however, the PGA pro took a back seat as his amateur sidekick was not so much cooking with gas as high-octane rocket fuel in racking up 21 points.
All of which was at odds with their expectations.
"Our expectation level was pretty low," said Cook, "as we both came into the tournament in poor form."
"I can't believe we did it," added his partner. "We had two one-pointers so in a way we could have done better. But one always says that.
"We gelled well but it will probably go horribly wrong tomorrow."
The defending champions are not giving up their #PGASuper60s title easily 🏆

The team from @NorthWiltsGC are two shots clear of the field at @Tewkesburypark 👏

Hear from our leaders 👇 pic.twitter.com/9v7UoEGLBY

— The PGA (@ThePGA) August 3, 2022
Should his pessimism materialise, a substantial posse of pursuers is close enough to take advantage. Fourteen pairs trail the leaders by no more than five points which, given the tournament's betterball format, can easily be retrieved.
Moreover, the challenging group includes players with 'previous' in this or other senior PGA competitions.
Fraser Mann is a two-time winner of the Senior PGA Professional Championship; Murray White has prevailed twice in this competition, winning in successive years with different partners; and Stephen Bennett won in 2019, also with a different partner.
No pair, however, has successfully defended the title, similarly no mixed gender duo has won the tournament, but PGA pro John Harrison and his amateur partner Viv Hutchinson are handily placed to achieve a memorable first.
They are just three points adrift and Harrison said: "The course suits my partner because it's very dry and the ball is running.
"She plays off 11 and is a pretty decent player. She was a bit nervous at the beginning, which was understandable. But she played very well. It's going to be quite interesting."
Meanwhile, the Superb 70s tournament is set to be a closely run contest. Tom Melville and Jim Kinloch and Michael and Julian Steadman are on 39 points, one clear of previous winners Iain Clark and Colin Day and John Lower and Stuart Belcher. Richard Bowman and Peter Kinloch are three shots further back.
CLICK HERE for a full list of scores