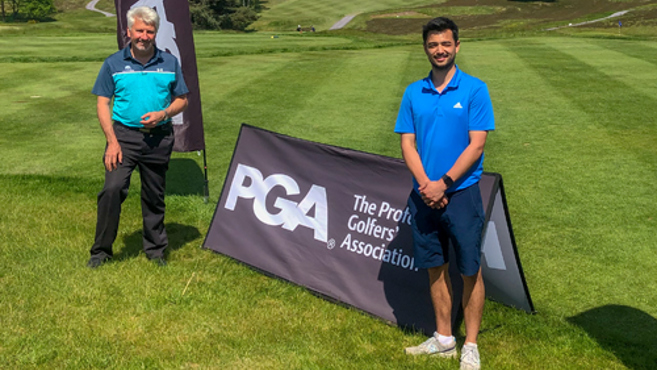 A Nottinghamshire chef has put Turkey on his golfing menu after qualifying for the final of Europe's biggest pro-am competition - the PGA National Pro-Am Championship.
Tom Pang (above, right) and Oakmere Park Golf Club PGA Professional Daryl St John-Jones (left) teamed up in the qualifier at Sherwood Forest Golf Club and amassed 41 Stableford points to finish two ahead of the field.
The duo will now play in the £25,000 grand final which is due to be played in Turkey on the PGA Sultan Course at Antalya Golf Club in the last week of November.
That all-expenses paid trip came as a surprise to Pang, a 25-year-old who plays off 8.5.
He said: "It's an amazing event to qualify for, I was shocked when I realised what we'd won.
"Daryl was great to play alongside on the day and he saved me on multiple occasions.
"But I like to think I chipped in with a few shots. I birdied the 17th hole for a nett eagle.
"That obviously helped, as did the two birdies I made early on. But we thought we'd messed it up with a couple of bogeys and we played a bit more freely near the end.
"After the round had finished, we thought we might have done well enough for a top three place.
"I don't think we felt we would actually win but didn't have too long to wait before realising we'd done it."
Pang joined Oakmere Park in March 2020, just as the country was heading into its first Covid-19 lockdown.
But he says he was out on the course as soon as possible and that his job helps his game.
"I'm working in the evenings which means there's plenty of time for me to play golf during the day, I'm a bit of an addict when it comes to that," he added.
Meanwhile, St John-Jones is becoming the pro to partner in PGA pro-am events. Two years ago he and the then Oakmere Park captain, Mike Douglas, qualified for the final of the SkyCaddie PGA Pro-Captain Challenge at Argentario Golf Resort, Italy.
CLICK HERE for a full list of scores