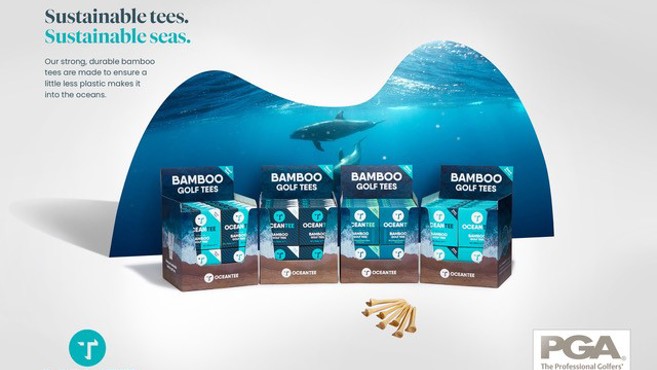 PGA Partner and title sponsor of the WPGA Series, OCEANTEE, has been selected as a finalist for the annual Global Good Awards in the SME / Start Up Category. 
The Global Good Awards recognise and reward change across all aspects of purpose driven sustainability and social impact. 
As well as looking at the positive impact the brand is having, in this case by encouraging golf businesses to move away from using plastic tees, the judges also consider the way in which the business is working in the community and with others to help them achieve their own sustainable ambitions.
Entries for this year's awards, which began in 2014, are up 40 per cent on last year which makes OCEANTEE's selection as a finalist even more significant. 
Ed Sandison, Founder of OCEANTEE, commented: "For OCEANTEE to be shortlisted alongside these incredible, forward-thinking brands is such an honour. 
"We are passionate about sharing our knowledge and creating opportunities for golf businesses to become more sustainable. This transparent approach means that we are working for the good of golf and the good of the planet. We're very excited for the final later this year!"
OCEANTEE's submission highlighted a number of collaborations and initiatives from the last two years that have brought the company and sustainability to the forefront of the golf industry. These include partnerships with the Ladies European Tour, the GEO Foundation, The European Tour's Oman Open and The Aphrodite Hills Cyprus Swing where OCEANTEE's involvement has enabled them to achieve their own sustainability ambitions. 
Ahead of the virtual awards ceremony on 22nd September, 2021, organisers have released the shortlist of finalists across the 18 categories. Other finalists include projects from big names such as Capital One, ITV, Aviva, Investec and Santander as well as smaller enterprises such Earth Cubs, a free, personalised app designed to teach 3-7 year olds about sustainability and environmental issues. Representatives from Nigeria, India and Dubai will contest the Young Champion Category alongside British contenders demonstrating the global nature of the awards.