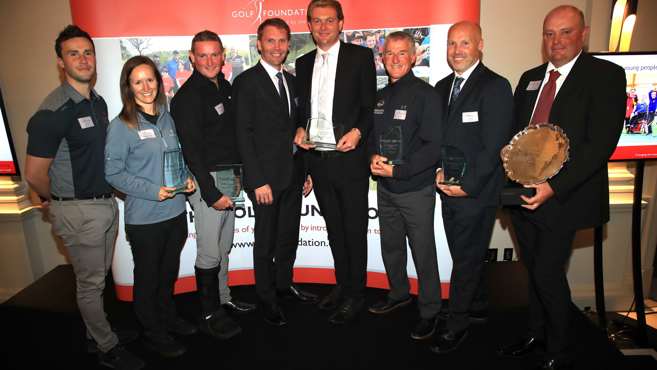 A PGA Professional whose efforts to get youngsters into golf include trawling car boot sales to find clubs for them has won the Golf Foundation's most prestigious award.
Ivan Oliver, who is attached to Scarborough South Cliff Golf Club, Yorkshire, and supports multiple clubs on the county's coast and East Riding with coaching, has been presented with the Sir Henry Cotton Award.
He received it during the Golf Foundation's annual awards ceremony at Wentworth on the eve of the BMW PGA Championship.
The award, named after the three-time Open Championship winner who was one of the Golf Foundation's founders, is presented to an individual who has demonstrated meritorious service to junior golf for a sustained period. Oliver, 45, ticks all the boxes in that respect.
"Ivan has engaged with and reached so many different individuals," said Brendon Pyle, Golf Foundation chief executive.
"Each year he provides approximately 16,000 children with access to golf through the various activities he delivers within the local schools, community and at the golf club.
"He also links and works with more than 40 primary and secondary schools annually. These are via various mediums; from schools' taster sessions and coaching packages to Level 1/2/3 festivals and club-based sessions.
"In 2018, Ivan delivered a countless number of Tri-Golf festivals as well as running and leading two Level 3 competitions across active Humber and north Yorkshire.
Oliver also uses less conventional methods and venues to promote the game.
"Ivan is always exploring new projects and initiatives – many of which he creates himself," Pyle added.
"He has been known for a number of years to have delivered golf on beaches, on caravan sites, in local parks and crazy golf courses. He also visits car boot sales to source clubs for youngsters to use."
Commenting on his award, Oliver said: "I started playing at a very young age and want to give something back.
"My aim is find access so that everyone can play and engage with as many children as possible. It's the future of our game and it will be in a really strong place if we can achieve that."
Oliver estimates he spends in the region of 70 to 80 hours a week either coaching golfers of all ages and abilities as well as promoting the game.
"It's fairly intense but I love every minute of it," he added. 'I'm effectively a community golf coach so I work with multiple clubs, school sports partnerships and county authorities. They are all part of a team situation we have.
"My aim is not necessarily to produce good players but enable children who would never get the opportunity to play the chance to do so. It's really more about engagement than producing top end players.
"We've got many examples of children who have engaged in golf and, through its learning platform, have gone on to university. They may never have had that opportunity otherwise, so it's changing lives like the Golf Foundation says."
The Golf Foundation is the nationally recognised charity that helps young people enjoy the playing and personal benefits of golf through its HSBC Golf Roots programme in schools, golf clubs and communities.
In addition, to Oliver, Iain Fulton, a PGA Professional at Belton Woods Golf Club, Lincolnshire, was the recipient of an individual award.
He won the Sinclair Award, which is presented to a PGA Professional who, as a direct result of his or her efforts, has made a major impact in the development of grass roots junior golf.
"Iain has made a significant impact in the development of grass roots junior golf at Belton Woods and the local community in 2018," said Pyle.
"He was one of the first coaches to join the HSBC Golf Roots Coaches network, has delivered StreetGolf and Tri-Golf to many local schools, and worked with Grantham College of Further Education to offer golf activity to disabled students. 
"He has worked with Girlguiding UK to encourage more girls into the sport, delivered Girls Golf Rocks activity and ambassador training.
"And his Academy has seen an increase of 62 per cent. From a total membership of 68, the club now has 38 active juniors which has increased by 75 per cent from the start of 2017."
Reflecting on the award, Fulton said: "I'm surprised and very honoured. I love what I do – adult coaching gives me satisfaction but there's nothing like seeing a youngster love the sport like I do.
"Seeing a smiling face when a youngster gets the ball airborne is why I do it.
"My catchment area is not that well-populated – we're in a small place in the middle of Lincolnshire so you have to be proactive.
"I've also had a lot of support from Stacey (Mitchell) the Golf Foundation's regional development officer for our area. And the initiatives the Golf Foundation produce are fantastic."
Meanwhile, five PGA pros were party to four other awards.
Alan Johnston and Sarah Sutcliffe were instrumental in Tickenham Golf Club near Bristol winning the Burroughs Award for its success in encouraging young people with disabilities, particularly autism, to enjoy golf.
Sally Hinton-Lewis played a key role in the team at Close House Golf Club, Northumberland, introducing more girls into golf via the Girls Golf Rocks programme.
The Critchley Award went to Alex MacGregor and the team at Addington Court Golf Centre, near Croydon, for its success in creating opportunities for young golfers and developing junior players, including those from disadvantaged backgrounds or those with disabilities.
The work of Brian Mudge and the team at Overstone Park Golf Club, Northamptonshire, in creating a successful scholarship programme that has resulted in a significant increase in junior membership was rewarded by the Bonallack Award.