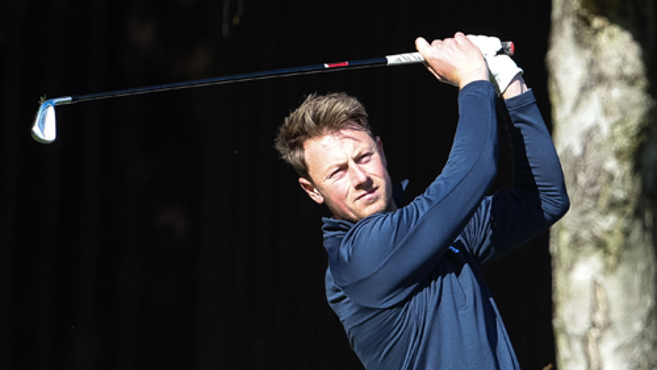 Northamptonshire duo Simon Lilly and Michael Campbell (above) are well-placed to win the PGA Inter-County Championship at Sutton Coldfield Golf Club after establishing a three-shot lead at its halfway stage.
There is a possibility, however, that a portion of the £4,000 first prize has already been accounted for.
Not least because the pair's better-ball 10 under par round of 61 featured the fourth ace of Campbell's career!
Fortunately, from their perspective they were the in final fourball to tee off and most of the 28-strong field had headed for home by the time Lilly ended the round in the manner they had begun it – with a birdie.
That birdie was followed by Campbell's ace at the 131-yard par-three second, a hole the pro from Kettering Golf Club has an affinity for and conquered with a wedge.
"I've hit a few good ones there in the past and have good memories," he said. "We couldn't see it from the tee but I think it was one hop and in.
"It was nice to be three-under after two. Then we carried on from there. I birdied four and Simon went on a run after that. It was a very good start."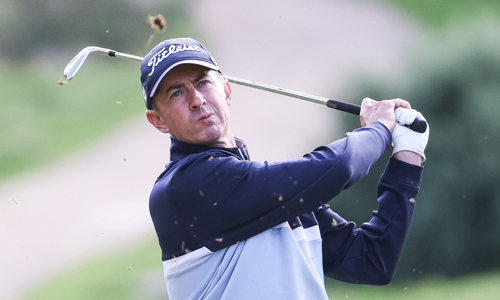 So good that Campbell and his partner (above) from De Vere Staverton Estate were seven-under at the turn.
Their negotiation of the back nine was less explosive by contrast but Lilly's birdie at the last – one of just six recorded at the par-four hole – has put them three shots clear of six teams sharing second place.
The sextet includes two previous winners: Essex in 2017 and 2018, and Yorkshire four years prior to that. Worcestershire, the defending champions, meanwhile, are one of a quartet of pairs four shots adrift of the leaders.
Given the tournament's format – foursomes come into play in the final round – a four shot deficit is not insurmountable.
However, the Northamptonshire duo do have an advantage in addition to their lead: unlike many of their rivals, they play regularly together.
"We've played in the PGA Fourball Championship in the last few years and this event a couple of years ago," added Campbell. "And we've got some form. Hopefully we can carry it on in the second round."
CLICK HERE for a full list of scores