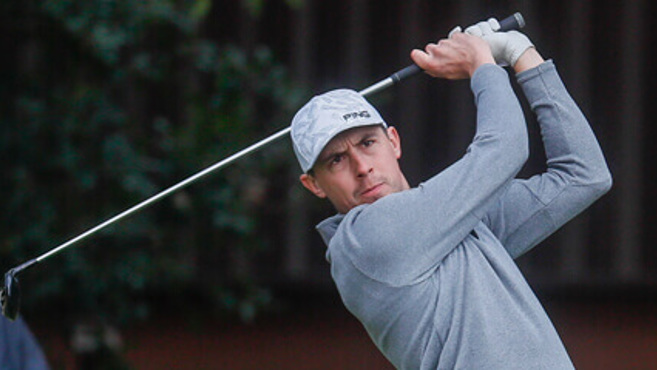 The odds on the freshly-formatted PGA England and Wales Inter-County Championship having a new name inscribed on the trophy are short after the first of the tournament's two rounds at Sutton Coldfield Golf Club.
Just one of the five previous winners is among the first dozen in the 27-strong field chasing the £4,000 first prize: Yorkshire and Suffolk are five shots off the pace, Kent a shot further back while Berkshire, Buckinghamshire and Oxfordshire are seven adrift.
The elephant in the room as far as the pretenders to the county crown are concerned is Essex, the defending champions.
The duo, comprising Jason Levermore and Lloyd Kennedy, trail first round leaders Worcestershire by just three shots and are two behind Nottinghamshire and Devon after posting a seven-under-par round of 65.
Levermore was a key figure in Essex winning the tournament in 2017 and 18 when teams comprised three players with the best two scores counting in a two round stroke-play format.
The revamped tournament, which features one round of fourball better-ball and the other of foursomes, is contested by pairs and Worcestershire were clearly at home with the arrangement
Ian Martin (above), who is attached to Kings Norton Golf Club, and Hagley Golf Club's Simon Gabbitas (right) posted a 10-under-par total of 62 to keep several of The PGA's big hitters at bay.
Levermore, a member of the 2019 Great Britain and Ireland PGA Cup team and winner of the East region's Order of Merit for the sixth time, is one; Nottinghamshire's Andrew Willey and Paul Hendriksen of Devon are others.
Willey, winner of the Titleist and FootJoy PGA Professional Championship in 2018, and his partner, Lee Clarke, looked set to have the venue's officials thumbing through the record books after a potentially course-destroying front nine.
The pair were seven-under at that stage but, in comparison, were becalmed on the way home. Two more birdies followed en route to a nine-under-par round of 63.
Hendriksen is also a former PGA Professional Championship winner and he and his brother, Dan, are level with Nottinghamshire thanks to the latter sinking a lengthy birdie putt at the par-four 18th.
A shot further back lie Leicestershire who are represented by Matt Cort, another member of the 2019 Great Britain and Ireland PGA Cup team, and Michael Reed.
The pair, in common with neighbouring Nottinghamshire, produced a high-octane start. They were six-under at the turn before adding birdies at 13, 14 and 15 and then producing what is an endangered species in a birdie-laden tournament, a bogey at the 16th.
All of which leaves them a shot clear of the crowd crammed into fifth place on seven-under: Cheshire and North Wales, Northamptonshire, Surrey, Wiltshire and, not forgetting, Essex.