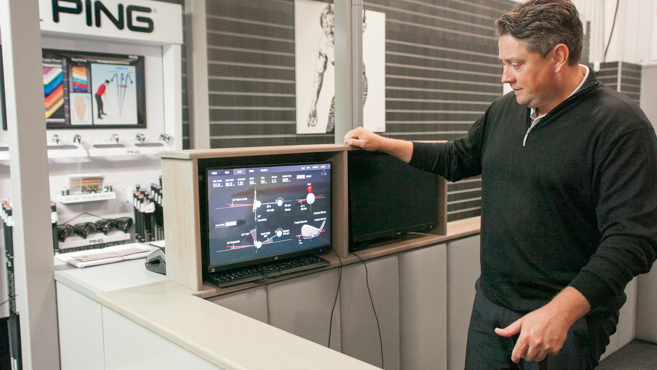 Picture the scene: you're on the practice ground, trying to find a swing that will combat a left to right wind. It's important that you can pull off the shot to order as you're about to step onto the 1st tee at Royal Troon.
Only you're not actually playing on the west coast of Scotland; in fact, you're in a fully air-conditioned warehouse unit in Essex. To be precise, you're in The Swing Warehouse – the new home of PGA professional Andrew Pestell.
Several years ago, he and a business partner came up with the idea of establishing an indoor development area, initially aimed at supporting the ambitions of talented, young golfers in the East and beyond. Their bold vision has grown and led to the creation and 2021 launch of a high-tech facility that caters for golfers of all levels and aspirations.
At the heart of it, Pestell is offering the expertise and craft associated with a PGA professional. Insightful tuition, club fitting and a high standard of customer care are all provided alongside cutting-edge software in the spacious indoor facility located in a picturesque village, just a 15-minute drive from Chelmsford.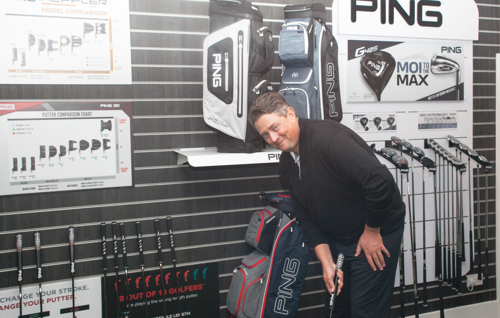 It looks and feels impressive from the moment you walk in. But it took more than a click of the fingers to make it happen. Pestell put in months of graft, channelling his inner D.I.Y talents – and calling on the support of friends and associates along the way.
Pestell, 42, previously worked for many years at his boyhood golf club, Chelmsford. In recent times he'd been serving as the club's food/beverage and events/golf day manager. That came to a close in 2020 and Pestell chose to pursue the idea of an indoor golf centre that he'd been mulling over for some time.
With the help of a longstanding pal, Pestell identified a place in East Hanningfield to develop his plan. And with the investment of a businessman, whom he'd met through golf, The Swing Warehouse began to take shape from last December.
Through last winter, Pestell and his pal did much of the hard yards in terms of the refurb of the unit. An element that looks particularly smart is the jet oak slat walling that gives the place a cool, contemporary feel. Then there are the super-smart and roomy multimedia bays, set up and padded by Pestell's landlords Ace Contracts (London). 
Pestell said: "By March we were pretty much there. It was just about the finishing touches, basically. The end of April, we had the first client in the door.
"There's a lot of these places being built now and you need to be ahead of the game a little. For us to do it, it had to be done properly to the highest level we could achieve financially to create this environment, this facility.
"We've got the two full bays – they're four metres wide by three metres high. Plenty of space, which was the main thing. Both bays are powered by Foresight Sports and GCQuad.  There's also a four by two metre putting mat and I'm going to do more with that.
"We're providing to anyone who's interested in playing golf or learning at any level: elite players through to total beginners.
"If you want to come and play nine or 18, you can hire the space as a two-ball, a three-ball or a four. And play any of the courses on the system. There's about 20 on there – Wentworth, Valderrama, Emirates, Congressional, Troon.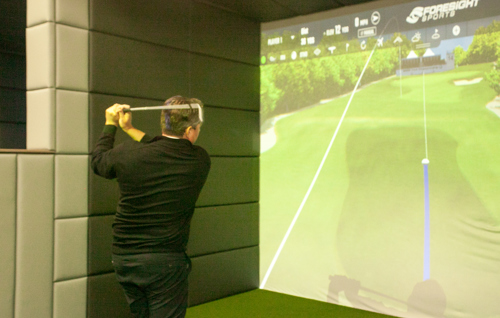 "Or you can come in and practise – you can set up a range of things to hone your different distances. Skills challenges, competition games.  You can change all your parameters on the range. So if someone is struggling to hit the ball into the wind, or a right to left wind, a left to right wind, they can come in here and practise with different directions, different altitudes, different temperatures.
"Then there's 'know your numbers' which explains itself. A guy just phoned me this morning…he has just bought a new set of club and wants to know how far they go. So you hit a minimum of three shots with each club through the bag and work out exactly how far everything goes."
One of the early beneficiaries of the facility has been Pestell himself. By his own admission, in the past he has not always been the most ardent when it comes to putting in the hours on the practice ground. However, it has been a different story this summer, fine-tuning his game at The Swing Warehouse when time has permitted. He feels it's no coincidence that he has finished fifth on the Order of Merit – the first time he has been in the top-10 since 2013.
He said: "Since I've had this, I've been using it and understanding my numbers better. Distance control, I'm pretty much bang on with a lot of my stuff. I've got quite an analytical brain and have got right into some of the numbers side of things."
With his playing season drawing to a close, Pestell – determined to really maximise the potential of the business – is planning to spread the word about The Swing Warehouse. He and his business partner are just finalising the different membership packages that are going to be available. Plus, another pro is in the pipeline to assist with coaching and the delivery of top-end junior programs.  
He expects the upcoming cold and wet evenings to be busy. After all, unlike the British winter, adverse conditions will never affect play at Pesty's place – not unless you choose to set them up on the system before heading to the tee!