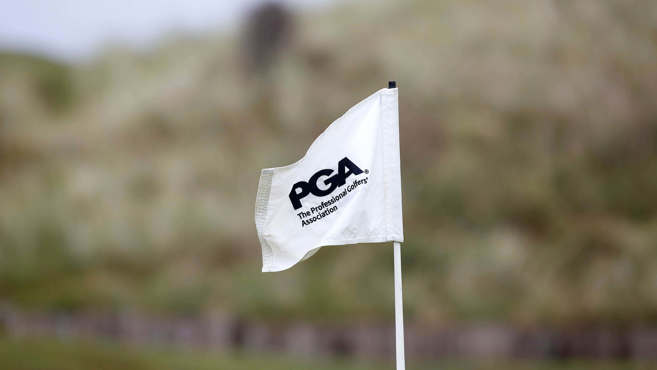 Peter Gill, an Honorary PGA Member who combined his duties as a club pro with challenging Europe's elite during a career that lasted more than 50 years, has passed away at the age of 89.
Peter, who was made an Honorary PGA Member in 1999, a year prior to retiring as head pro at Knole Park Golf Club in Kent, contracted and succumbed to COVID-19 at Maidstone Hospital.
Born and raised in Aldridge, West Midlands, Peter spent his entire working life in golf, beginning with a spell as a trainee with Charlie Ward at Little Aston.
"His father was a miner but he didn't fancy following him when he left school at the age of 15," recalls his son, Peter Jnr.
"He was having a dalliance with the Little Aston greenkeeper's daughter at the time and that got him interested in golf!"
Having received a priceless golfing education from Ward, Peter moved on to The Addington Golf Club in Croydon and then Surbiton Golf Club, Surrey.
His career was put on hold for 18 months while he did his National Service with the RAF although his prowess as a golfer made him a popular partner with officers.
And it was while he was at The Addington that he won the PGA Assistants' Championship at Hartsbourne in 1959.
"He should have won it more than once but he didn't want to make a speech," says Roger Fidler, a PGA pro at West Kent for 41 years and Peter's friend for even longer.
"That was what he was like. He would never put himself forward and wasn't an outgoing character.
"And he was such a nice fellow. Nothing was too much trouble for him - despite being the head pro, he would feed the ducks on the pond by the 18th green at Knole Park every day.
"We were friends for more than 60 years and we played a lot of golf and always went racing together – probably to every track in the country.
"Some of the things we did were ridiculous, like when we went up to St Andrews for final qualifying for The Open one year.
"Peter drove and I was feeling awful when we arrived – I had tonsillitis or something. So he worked it out that if he shot such and such a score, he wouldn't qualify.
"He ended up four-putting the last but still ended up in a play-off, which he lost!
"Nevertheless, he was a good player and had a great short game, which was a result of him working with Charlie Ward.
"Charlie was with people like Arthur Lees at Sunningdale and Ken Bousfield who was at Coombe Hill – they were possibly the best chippers and putters in the world at the time and Peter learned from them."
Those short game skills were evident when Peter won the PGA Assistants' Championship, a victory that came three years after Neil Coles had lifted the trophy and six prior to Tony Jacklin following suit in 1965.
Five years later Peter was attached to Surbiton and all three were in the mix to win the tournament that at the time carried the world's biggest prize fund, the 1970 John Player Classic at Notts Golf Club.
Peter earned £3,750 for finishing tied third with Coles, two shots adrift of Jacklin, the reigning US Open champion, and three behind Christy O'Connor Senior, who claimed the £25,000 first prize.
"That showed he could play in the best of company," says Bill Dawson, the former head PGA Professional at Wildernesse Golf Club in Kent and long-standing friend of Peter.
"The first tournament I competed in was the Coombe Hill Assistants' and Peter was already an established player, alongside people like Peter Butler, Neil Coles, Bernard Hunt and people like that.
"He won it in 1959 was one of a handful of players along with Peter Butler and Ross Whitehead, guys like that, who were vying with one another in these competitions.
"He more than held his own in pretty high company. I was told, and I'm sure it's a true story, about the draw for the News of the World Matchplay Championship.
"It was always played at Walton Heath in September and Peter Alliss was a regular competitor.
"One year he was heard to ask: 'Has anybody seen the draw?'. And when someone said 'yes', he replied: 'Please tell me I haven't got Peter Gill in the first round.'"
Renowned for modesty and despite being held in high esteem as a player by his peers, Peter described his performance in the John Player Classic as earning him his '15 minutes of fame'.
It was tempered by a frustrating case of what-might-have-been, however.
"His four putts for birdies on the final four holes all lipped out," explains Peter Jnr. "But the prize money helped him earn £10,000 during the year, which was a lot of money in those days."
Peter was appointed head PGA Professional at Gatton Manor Golf Club, Surrey, shortly afterwards and stayed there for almost five years before taking on a similar role at Knole Park in 1976.
He became eligible to play in the PGA Seniors Championship in 1980 and once again
O'Connor Snr was to prove his nemesis, not least at Burnham & Berrow three years later when he was runner up behind the Irishman.
"O'Connor won it three years running and my dad was in the top five every time," recalls Peter Jnr.
"He used to say no matter how well he played that little so-and-so was always a couple of shots better!
"But he didn't have any regrets. He had a superb career, loved every minute of being a PGA Professional and was proud to be made an Honorary Member."
Peter, who was pre-deceased by Doreen, his partner of 45 years, is survived by Peter, his son, and daughter Penelope. The PGA extends sincere condolences to them, his other family members and friends.