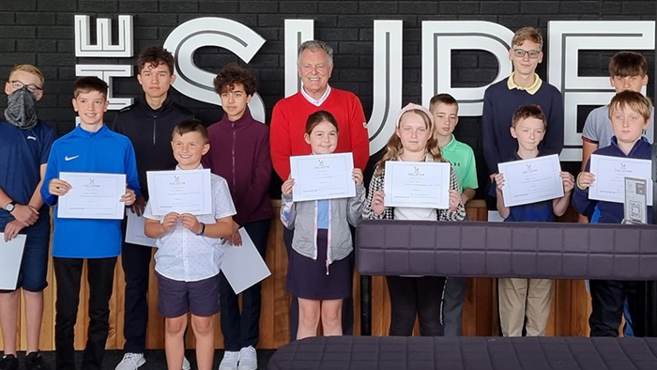 PGA Captain Bernard Gallacher has heaped praise on PGA Professional David Sanders for his work in providing a pathway into golf for youngsters in the Northampton area.
Sanders, who is based at Delapre Golf Centre, teaches people of all ages and ability as part of a three-man coaching team at the Northampton venue.
But it is Sanders' work with junior golfers that has caught the eye of three-time Ryder Cup Captain Gallacher.
In 2018, Sanders took up a newly created position of 'Junior Golf Development Professional' at Delapre. As well as running the venue's junior academy every weekend and during the school holidays, Sanders introduced a new golf scholarship scheme to encourage more young people in the area to take up the game.
Sanders, 56, revealed: "I had a goal to introduce a golf scholarship to two/three children from the local community and to run this every year.
"I approached all the local state schools within five miles of our golf centre with information about the scholarship to share with the parents of children.
"The scholarship 'try-outs' began in November 2019 and we had narrowed the field to 14 potential candidates by the time we went into lockdown last year. Those 14 juniors had to wait patiently until May this year to eventually get down to the last three, who were awarded scholarships."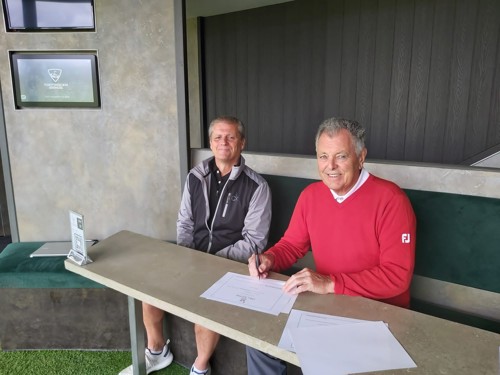 The 11 other candidates were awarded a semi- scholarship in recognition of their positive attitude because of the COVID-19 delay, their continued commitment to golf and to avoid disappointment.
The scholarships include: free golf membership and lessons every week, access to the driving range, golf clubs until they leave school, golf clothing and footwear, competition entry and ongoing support.
Gallacher heard about the scholarship and attended a special awards ceremony, held earlier this summer, to present the junior golfers with their certificates.
Gallacher commented: "The main reason I support scholarships is I am always happy to support PGA Members who give up their time to help boys and girls develop their game and try to maximise their potential. A good template is Ross Fisher and Annabel Dimmock, both products of the Wentworth Golf Scholarship programme.
"David Sanders is a dedicated PGA Professional who wants to put something back into the game and Delapre Golf Centre is an excellent base for aspiring young golfers."
CLICK HERE to find out more about Delapre Golf Centre.