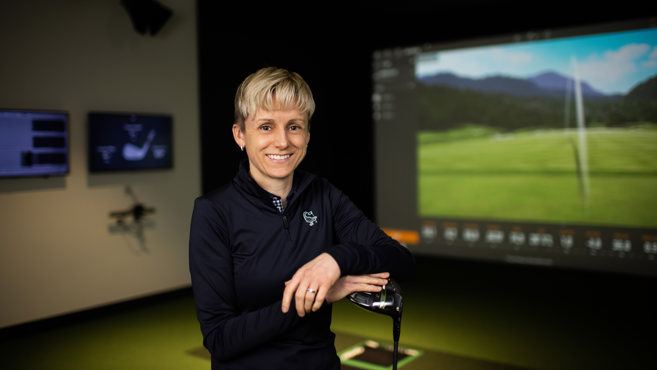 There is no denying that, since the Covid pandemic was declared in 2020, the world has changed drastically.
While Golf has actually benefitted during this awful period, with our great game taking a sizeable boom in economic terms and participation, this cannot be said of most other industries and sports, many of which have struggled to survive.
It is, therefore, amazing to hear that, in those 18 pandemic-hit months, Advanced PGA Professional, Alex Mollin, and her business partner, Nicola Mollin, haven't just opened one business, but three!
For a number of years, Alex has wanted to set up her own business on the picturesque island of Jersey, where she and Nicola are based. During the pandemic, she was able to put her ideas into action, opening AMP Golf Performance Centre, Green Goose Coffee Shop and Green Goose Golf & Leisure.
Her decision to purchase an ex-Co-op Sports Shop was instrumental in deciding what direction her businesses would take. "Straight away I knew that the upstairs would be ideal for the simulators, the space, the height and everything else that we needed, but that did leave the downstairs spaces vacant, and we had to decide what was the best thing for that," Alex explained.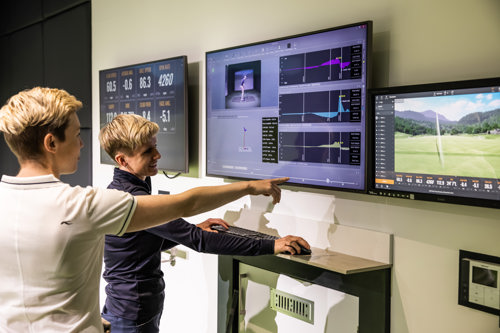 Their eventual decision was to turn it into an independent coffee shop. "Looking at the location on the island, there was no kind of coffee shops in or around this area, so we really took our time with it. The building was set up initially to be used as retail, so we thought with the golf and leisure aspect of it, with the simulator and the performance centre upstairs, it would work quite well."
After leaving school, Alex had originally trained as an accountant and helped to run the family business. However, in 2010, she decided to change career, and become a Golf professional, graduating all three years as Titleist's PGA Assistant of the Year and completing her training at Les Mielles Golf Club. She continues to be attached to Royal Jersey Golf Club.
Her previous work experience and knowledge gained has been instrumental in helping Alex set up Green Goose Golf & Leisure, Green Goose Coffee Shop and AMP Golf Performance Centre, a state-of-the-art academy which is equipped with two indoor Trackman simulators, as well as GASP 3D Force Plates and high-speed cameras. It also features an indoor putting green, with SAM Puttlab and Puttview.
Along with the wealth of experience Alex possesses, she also values the importance of taking every opportunity to gain knowledge: "Having exposure to good coaches is always a positive," she says. "Having mentors and surrounding yourself with ambitious peer groups is really important if you want to broaden your knowledge and progress within the industry.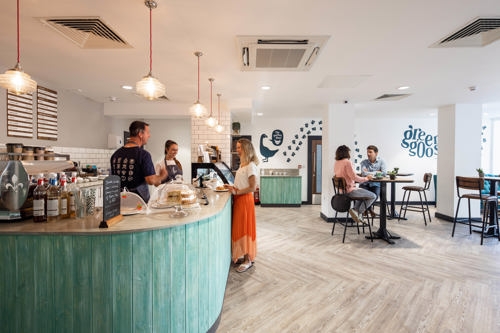 "I'm currently doing my Masters in Sports Performance Coaching through the University of Stirling. The education programmes available are getting better and better. This means that Professionals are coming through a lot more highly qualified, and you need to continue to develop to stay ahead. The more knowledge, experiences and exposure to a range of experiences and coaches, the better you can understand what works for you, and what to introduce into your own practice."
This philosophy is on clear display with arguably one of the best and most successful coaches to ever grace our game, Butch Harmon, being made AMP's first patron.  
"We first met in 2015 when I went out to the USA to shadow Butch in Las Vegas. I have been really fortunate to build this relationship with him over the years, he has been so supportive of my coaching and particularly getting this new project off the ground. He's such a great coach and a really good person and I am very lucky to call him a friend.
"Setting up these businesses during Covid certainly had its challenges, it has taken an insane amount of time for Nicola and I. We weren't able to get on site until February and all the meetings with planners and designers, both on and off the island, had to be done via Zoom and Teams.
"After almost a year of planning, we finally opened the businesses in August, so we are still in the really early stages. Having an indoor performance centre, with state-of-the-art facilities and technology, is also completely new to Jersey.
"Over time though, we will be able to identify the strengths and areas of development of the businesses and adapt when needed. Now, we're just making sure that people know we are here and what we offer, which has been suggested by industry experts to be possibly one of the best indoor facilities in the UK."