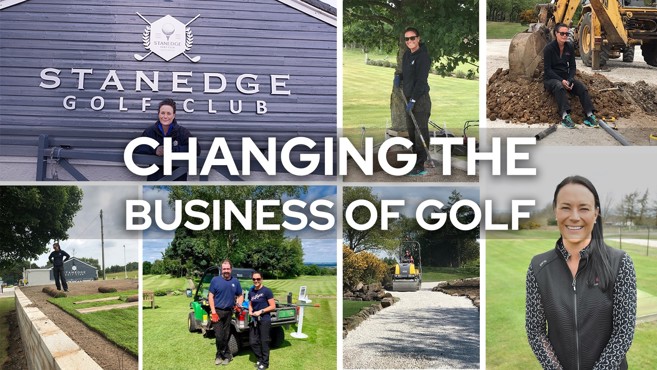 A unique 'docuseries' showing PGA Professional Fame Tate's mission to transform a rundown golf club into a friendly, accessible and inclusive community venue has been released.
In a first for the golf industry, the fly-on-the-wall documentary, Changing the Business of Golf, follows the former Ladies European Tour professional as she breaks with tradition and aims to transform the course and customer experience at Stanedge Golf Club, Derbyshire.
In the first episode, Tate recalls the life-changing decision to acquire the golf course and how she is turning the club into an open, friendly venue at the heart of her local community.
"If you'd said to me one day you'll own a golf club, I'd have probably sat there are laughed," said Tate. "My vision from day one was to break away from the traditional golf club model. It's about making a place that's welcoming, affordable, accessible, inclusive."
The series documents day-to-day happenings, including course management work led by head greenkeeper Christian 'CJ' Johnson.
It follows Tate and her team as she reopens Stanedge Golf Club after facing the potentially catastrophic challenge of the COVID-19 pandemic and enforced lockdown, forcing her and the team to call on their inner reserves of strength and resilience to keep the business afloat.
Watch the first episode now by clicking on the link below.