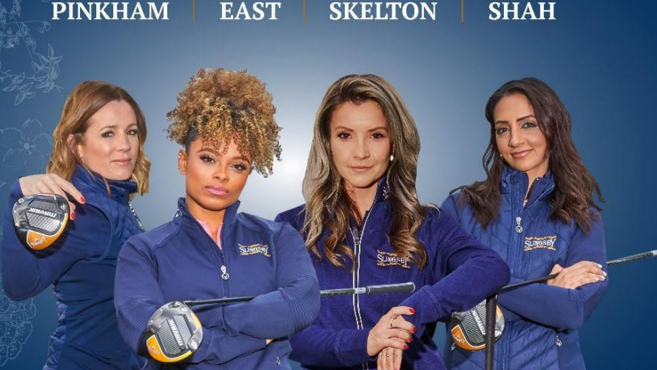 Four female celebrities have embarked on a unique challenge to learn how to play golf and compete for a place at the highly sought-after BMW PGA Celebrity Pro-Am with the help of PGA Professionals.
TV and radio presenter Helen Skelton, singer and song writer Fleur East, Sky Sports F1 presenter Natalie Pinkham and Sky Sports News host Bela Shah are taking part in The Slingsby Golf Academy.
Between them, they have a combined social media reach of more than 1.5million, but more importantly, they all want to learn and feel the benefits of playing golf.
With the support of PGA Professionals Steph Davies, Barry Middleton, James Irons and Alice Hiluta, the celebrity quartet will transform from novice to competitor in just seven months.
Each celebrity will be guided by their PGA pro and compete for a spot in the celebrity pro-am at Wentworth on 8th September, 2021.
With just one spot up for grabs in the Pro-Am, the 'Cadets' will have to play-off against each other in a nerve-racking shoot-out in early September.
The challenge will be covered across social media as well as a regular programme on Sky Sports which will document the highs and lows of each celebrity as they learn the game and compete on the biggest stage.
The aim of the campaign is to broaden the appeal of golf as an accessible sport and inspire more women and girls to take up the game.
Robert Maxfield, Chief Executive of The PGA said: "We are delighted that PGA Professionals are going to be helping Fleur, Helen, Bela and Natalie on every step of their golfing journey.
"Helping those who want to take up the game but don't know where to start is what PGA Professionals do every day and this is a brilliant initiative that will undoubtedly inspire plenty more women to give it a try.
"We look forward to following their progress and hope they develop the same love for the game as we all have."
Looking ahead to the challenge, Helen Skelton said: "My dad has always tried to get me into golf but working away and with young kids, I never carved out time to do these things for myself. Now is my opportunity."
Fleur East is hoping bring some X-Factor of her own to the academy. She said: "I like to be able to be able to inspire and create change, to be part of a movement. It's really exciting to take on something new and be involved in something that's bigger than me."
Natalie Pinkham is glad to get involved in a game that is modernising.
She said: "Anything that gets participation up and gets women talking about sport and encouraging a can-do attitude is just brilliant.
"I'll never forget going to a golf course many years ago and being told I wasn't allowed into the bar, not because I wasn't over 18 but because I was a woman.
"Finally, it feels like things are falling into place, as they should be."
Bela Shah added: "I talk a lot about sport and golf for my job, but I've not had the opportunity to play the game, so I'm so excited to learn the ropes myself."
We will be following the four PGA Professionals and their celebrities throughout their journey. Keep an eye on The PGA's social media channels next week to watch the first episode and see how the celebs are fairing.