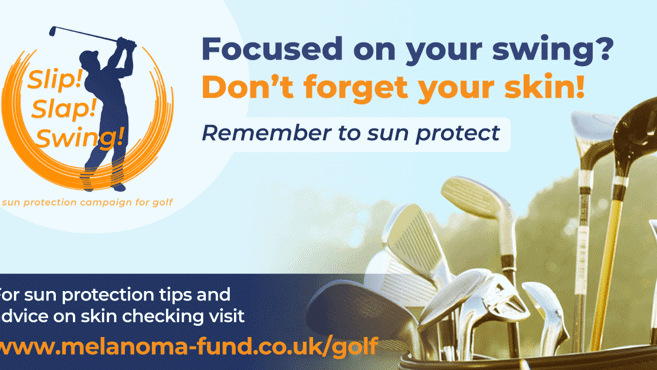 The PGA is one of nine major golf organisations supporting a new sun protection awareness campaign for golfers.
Skin cancer is a global epidemic and the most serious form is melanoma, which is doubling every ten to 15 years. To raise awareness of the risks, a new sun protection campaign for golf has launched, offering specialist tips and advice to encourage better habits.
Slip! Slap! Swing! was devised by the Melanoma Fund and is supported by nine leading golf organisations, working collaboratively to promote a multi-national media campaign, targeting the UK's four million golfers.
Many golfers believe their skin is 'seasoned' from years of UV exposure, or protected by a base tan, however the highest mortality rates from melanoma, are in older men who spend a lot of time outdoors, are less likely to use sunscreen, check their skin, or visit their GP with a concern.  
The campaign's top five tips are:
1. Keep sunscreen (SPF30+), sunglasses, a hat and large umbrella in your kit bag.
2. Apply sunscreen at least 20 minutes before teeing off to ensure it is effective.
3. Reapply sunscreen every two hours using a sunscreen applicator to keep palms dry.
4. Use a chubby sunblock stick to protect lips, nose and ears, which are all prone to burning.
5. Check skin every month or so and if you spot any changes, visit your GP immediately.
 
Jamie Cundy and Kenton Wright are two PGA Professionals who have both survived melanoma. They feature in a short awareness film to launch the campaign.

All 2,800 golf clubs in the UK have been issued with awareness posters and will be urged to share the film and campaign link on-line to their members. With summer heat-waves becoming more common place, the aim will be to arm golfers with the facts on protection, early detection and prevention of melanoma and other forms of skin cancer, keeping the sport healthy for everyone.  
For further information visit www.melanoma-fund.co.uk/golf.