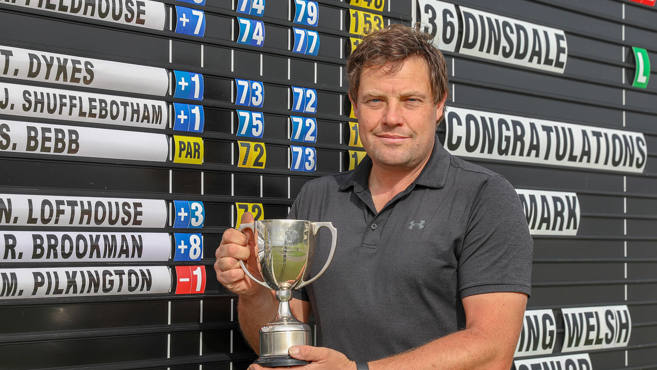 Mark Pilkington held his nerve and overcame challenging conditions to complete a wire-to-wire victory in the Asbri Welsh PGA Championship at Conwy Golf Club.
In doing so he added a new name to the honours roll that began in 1904 and includes the 1991 US Masters champion Ian Woosnam.
Winners of a more recent vintage – Sion Bebb, Richard Dinsdale and Lee Rooke - all threatened to foil Pilkington's passage to victory but the head PGA Professional at Porthmadog Golf Club held firm after a tentative start.
Bogeys at the fifth and seventh holes on the course that will stage next year's Curtis Cup erased the one-shot lead he nursed at the end of the first of two rounds.
A birdie at the eighth steadied matters, as did two in succession at 10 and 11. There was another wobble at the 13th where he dropped a shot but the 41-year-old atoned immediately at the 14th to go two-under-par for the tournament.
And that's how it stayed, Pilkington posting a 36-hole total of 142 to finish two shots clear of Dinsdale and three ahead of the quartet sharing third place: Bebb, Rooke, Matthew Tottey and Tim Dykes.
Dinsdale (above), who represents Asbri Golf, the tournament sponsors, signed for a three-under-par round of 69 and could have cranked up the pressure on Pilkington had he holed a six-foot putt for a birdie on the 18th.
Similarly Rooke (above) of Royal St David's, Harlech, was a whisker away from a birdie on the 17th en route to his five-under-par round of 67.
That was the lowest posted by any member of the 77-strong field in the tournament but his round of six-over on day one left him with too much ground to retrieve.
Meanwhile, Bebb achieved a measure of consolation in winning the competition for senior Welsh PGA Professionals by finishing a shot clear of Martin Stimson, the defending champion.
"That's my first trophy as a senior," said the pro from Morlais Castle Golf Club who attained senior status when he turned 50 last October.
Bebb (above) has won the main tournament three times and, admiring the trophy, Pilkington commented: There are some famous names on the trophy.
"Stephen Dodd has won it a few times and he's a friend of mine so I'm delighted to win this.
"I managed to play pretty steadily for two days and a practice round on Monday helped me. It was windy then so I knew what to expect when it blew yesterday.
"It wasn't as strong today so that helped but it's a tough course all the same and, as usual, it was in excellent condition.
"I've played it a few times in the past, especially when I was younger but I don't play as much as used to these days so it's great to come back here and win."
Leading scores: Mark Pilkington (Porthmadog Golf Club) 142 (-2); Richard Dinsdale (Asbri Golf) 144 (level par); Sion Bebb (Morlais Castle Golf Club), Lee Rooke (Royal St David's), Matthew Tottey (North Wales Golf Club), Timothy Dykes (Penrith Golf Club) 145 (+1); Stuart Runcie (Abergele Golf Club), Martin Stimson (Glyn Abbey Golf Club), Craig Melding (Neath Golf Club) 146 (+2).
A full list of scores can be accessed via this link:
https://pgagbi.bluegolf.com/bluegolf/pgagbi19/event/pgagbi19448/contest/5/leaderboard.htm