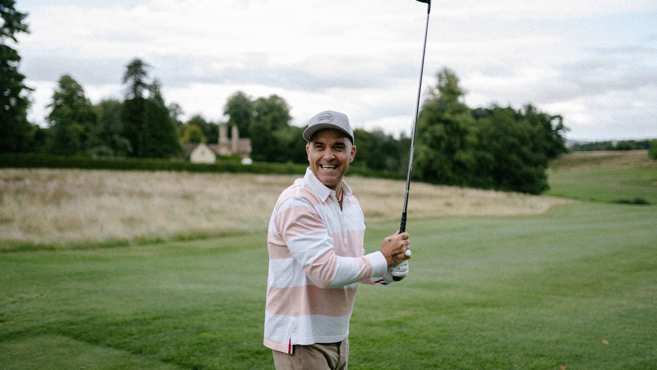 Global superstar Robbie Williams is at home on the golf course as he is on the stage thanks to a PGA Professional's coaching.
"I thought it was a wind-up, especially as he was late," says Ben Emerson, recalling the time he was told Robbie Williams had booked a lesson with him.
"The lesson was due to start at four and he still hadn't turned up by quarter-past. He lives locally and had played here the day before, so I thought Gregg (Hood) one of the PGA pros here was having a laugh at my expense.
"I was thinking what menial task I could get Gregg to do as penance when Rob finally arrived. He was 20 minutes late but very apologetic and we took it from there."
Taking it from there has led to the global superstar from Stoke on Trent becoming firm friends with Emerson, the head PGA professional and director of golf at Bowood Hotel, Spa and Golf Resort in Wiltshire.
That first meeting last summer and the golf lessons that have followed have led to Emerson and his wife regularly socialising with the singer and his wife, Ayda.
And when it comes to golf, the association has resulted in the former member of onetime boy band Take That being on course to play off single figures.
"Rob didn't have a handicap when he first came here and his aim was to break a hundred," Emerson adds. "Now he plays off 12 and he could be better.
"He could easily have a single-figure handicap but the trouble is he would rather be out on the course playing than on the range practising what he's learned.
"He loves being out on the course – it's a great escape from the attention he receives because of his fame. Apart from having a security man with him and his golf partner, it gives him the chance to be alone.  
"And he just loves playing. So much so that he's become a member here and plays two or three times a week when he's at home and not touring."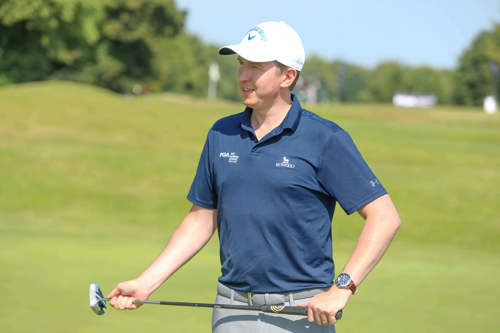 Emerson, pictured above, describes his pupil as a 'golf addict' which explains why there is no respite for him when Williams is on the road.
"If he's got a problem with his game or wants some advice he sends me a video," says Emerson, one of Today's Golfer magazine's 'UK Top 50 Elite Teaching Professionals'.
"I'll try and establish what's going wrong or what the issue is and advise accordingly."
Recently, however, no exchange of videos was required when Williams performed in Dubai.
"Rob had a gig there and invited me to go with him," Emerson says. "I couldn't turn that down! We were there for a week, played some golf and watched the Omega Dubai Desert Classic. We were guests of Lee Westwood, who is a friend of Rob's."
In addition to enjoying the break, Emerson discovered in seeing Williams at work and play that his golf buddy has two persona.
"He told me he didn't get nervous before appearing in front of thousands of people. 'That's when Robbie Williams turns up,' he said.
"But he admitted standing on the first tee is a totally different matter. He said that's when Rob turns up and, just like the rest of us, he can find it a nerve-wracking experience."
PGA Professional and YouTube star Rick Shiels recently met up with Robbie Williams to complete in a 'Matchplay Challenge'.