Having accumulated more titles than a gathering of hereditary peers, Paul O'Hara continues to be the lord of all he surveys on the Arnold Clark Tartan Tour.
For the fourth time in the last five years, the prolific Motherwell man finished at the top of the circuit's Order of Merit. After Greig Hutcheon's period of dominance, which saw him top the rankings seven times in total, O'Hara now holds the domestic scene in a full nelson.
From the moment he won the first counting event of the campaign at Stirling, O'Hara was off and running. The 34-year-old finished at the top of the leaderboard seven times on the Tartan Tour while his victory in the flagship PGA Professionals' Championship at Blairgowrie against the cream of the crop from the various GB&I regions underlined his wider authority.
"That was the most satisfying win of the year," reflected O'Hara of his second victory in the national championship. "I was 20-under and it was probably the most complete performance of the campaign. At a tough, tree-lined course like Blairgowrie, I was never off line and my iron play was great that week."
O'Hara didn't veer off course much during a season of polished accomplishment. "I've been playing good, consistent golf for a long time now and four Order of Merit titles in five years shows that," added O'Hara, who also won the prestigious Northern Open in 2021 for the second time in his career. "I've not been over-par for a while now and I have raised my own expectations about what I should be shooting."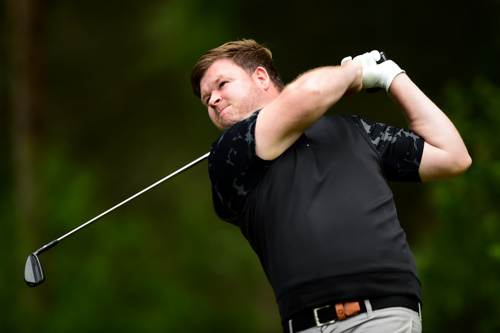 After the ravages wrought by the onslaught of the Coronavirus in 2020, something resembling normal service resumed in 2021. "The PGA did a great job getting events going in the middle of a pandemic and we have to be grateful for the opportunities we got," he said. "I hit the ground running when the new season started with that early win and thankfully I kept the momentum going.
"The standard continues to keep you on your toes. I played a couple of PGA EuroPro Tour events and on one occasion I think I was 10-under after two rounds and not even in the top-seven. On the Tartan Tour there are times when you'd shoot six-under and think you'd be leading but you're third or fourth. It's good competition."
With the season over, O'Hara can reflect on a job well done but he won't be resting on his laurels. "I've joined a 24-hour gym as I want to get stronger for next season," he said. "There are some good trainees coming through on the Tartan Tour and I need to keep up with these young pups."
For the time being, O'Hara remains the Tartan Tour's top dog.