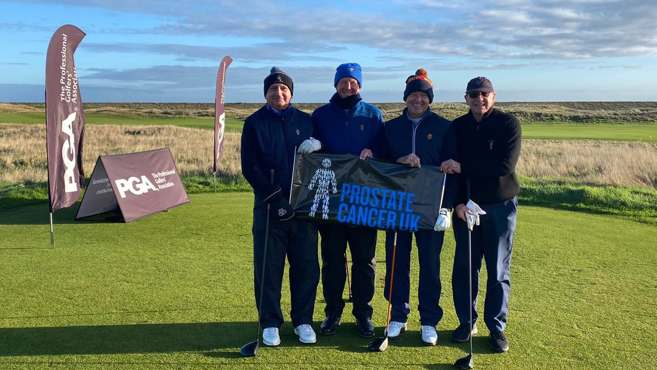 On a beautiful winter's morning on England's golfing coast, nearly 100 PGA Professionals and amateurs headed to Deal for the PGA Kent Christmas Fayre Pro-Am at Royal Cinque Ports Golf Club.
The leaderboard at the former Open venue saw a thrilling three-way tie at the top, with Andrew Butterfield (Knole Park), Richard Wallis (Canterbury) and Max Brackley (Stonelees) all shooting a three-under-par rounds of 39 points.
Butterfield, who already had one victory this season at The PGA In Kent Championship, started his round mediocrely, with six pars and one bogey putting him one-over. However, three birdies in a five-hole stretch for the 49-year-old got him back two-under-par, with a birdie at his last hole, the fourth, putting him three-under for the day.
For Brackley, his round couldn't have started much better, with birdies at the 16th, 17th and 18th putting him three-under.  He would follow the trio of birdies with a bogey at the first, his fourth hole of the day, but 11 consecutive pars were eventually followed by a birdie at the 13th to match Butterfield's three-under-par round.
As the duo finished their rounds, Wallis would join them at the top of the leaderboard, enjoying a blemish free day to finish joint first, the 40-year-old's fifth PGA win in his last seven starts.
In the Pro-Am event, the local knowledge and experience of Mark Belsham's team (Prestige Golf Academy) of Tony Smither, Greg Wall and Dan Trice claimed the top spot with 89 points.
Following an excellent Christmas lunch in the clubhouse, the traditional end of season raffle took place under the watchful eye of Royal Cinque Ports' own head PGA Professional Andrew Reynolds.
Recently made an Honorary Member of The PGA, in what was his 50th year as a professional and 43rd in situ at Deal,  Reynolds also offered some very factual advice on prostate cancer itself to all those assembled!
The raffle topped up his own funds raised for the Prostate Cancer UK, taking the tally to well over £11,000 following a celebration day for Reynolds earlier in the year.
With a successful day's plays completed, PGA South Regional Manager Sam Smith said: "It's great to be able to support such a fantastic charity again this year.  It's always a great way to celebrate the end of the season at Royal Cinque Ports, as well as raising some additional funds and awareness of Prostate Cancer UK."