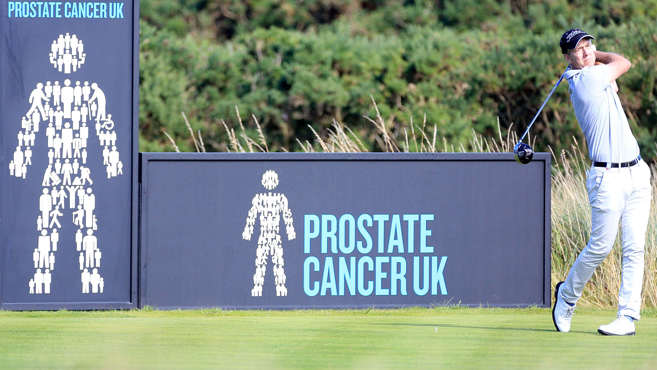 Prostate Cancer UK, an Official Charity of The PGA, has cemented their long-term relationship with the Staysure Tour by becoming the Official Charity of the Staysure PGA Seniors Championship, which returns to London Golf Club from August 1-4.
The charity has been closely aligned with the Staysure Tour at a number of different tournaments throughout the UK since 2015 but will now join forces with the Tour's headline event with Staysure, the multi-award winning over-50s travel insurance company, who are the title sponsor of the over-50s circuit.
This represents the fifth successive season in which a senior tournament has been aligned with the leading men's health charity, reaffirming the joint pledge of the charitable and sporting organisations to help save lives. Both are committed to raising funds and awareness amongst professional golfers of a disease which affects one in eight males.
As part of the partnership, Prostate Cancer UK will receive 100 per cent of all ticket sales and will also have an awareness stand within the venue's tented village.
Ryan Howsam, Chairman, Staysure, said: "With the great work Prostate Cancer UK do to research and raise awareness of prostate cancer, both in sport and our wider society, we are delighted to be aligned. As the Staysure PGA Seniors Championship goes from strength to strength, we will play our part in raising awareness of prostate cancer in the UK to lovers of golf, but especially men of a certain age."
David MacLaren, Head of the Staysure Tour, said: "We believe that senior golf aligns well with Prostate Cancer UK, given the age group of our members and the charity's drive to save lives through awareness of prostate cancer.
"Prostate Cancer UK has previously embarked on a number of powerful campaigns – most notably the Men United campaign across football, rugby league and many other sports – and we hope that those participating in the Staysure PGA Seniors Championship can help deliver this important message to a wide audience."
Prostate cancer affects one in eight men across the UK, and representatives from the charity will also be present on the tee of the par three eighth hole at the International Course during the Pro-Am on Wednesday July 31.
As golfers qualify for the Staysure Tour at 50 years old, Prostate Cancer UK is a perfect fit with the senior golfing community. Over 400,000 men are living with, and after, prostate cancer in the UK, while more than 47,000 men are diagnosed with prostate cancer each year, making it the most common type of cancer among men. 
Gabriella Bailey, Director of Fundraising for Prostate Cancer UK, said: "We're delighted to continue our life-changing work with our friends from the Staysure Tour by playing a part in this flagship event.
"We know prostate cancer exists in every golf club. It's a disease that, sadly, is not yet out of bounds. One in eight men are affected by this disease, and a man dies every 45 minutes from prostate cancer, a statistic brought home even more when you work out the average time for a round of golf.
"Prostate Cancer UK want to raise awareness and fund ground-breaking research to help fight the disease. That will help us provide dedicated support and information to men and those they hold dear. Thanks to the Staysure Tour and Staysure we can continue to drive home this serious message and raise crucial funds."
As well as the Staysure Tour, Prostate Cancer UK have teamed up with The PGA to reach golfers at risk of prostate cancer and raise money to fund vital research to save men's lives. The tie up between the charity and The PGA aims to ensure every PGA Member and their golf club members are aware of the disease.