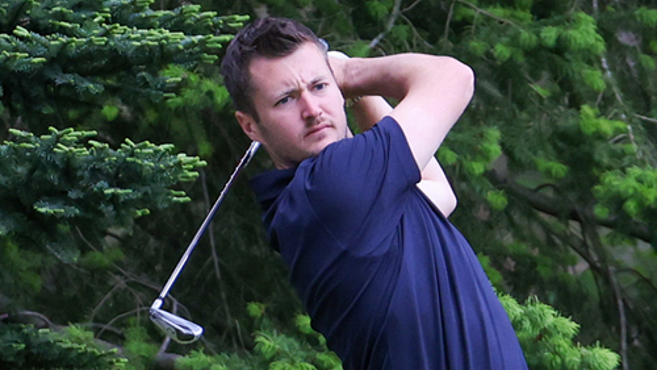 Patriotic Welshman Toby Hunt found a portion of Scotland to his liking in the first round of the PGA Professional Championship at Blairgowrie – so much so that he broke a course record.
Hunt, the Asbri Welsh National PGA Championship winner in 2018, negotiated Blairgowrie's Landsdowne course in nine under par to eclipse the existing record by a shot and establish a two-shot lead in the tournament.
Given preferred lies were permitted in bunkers due to the absence of rakes because of safety precautions to prevent the spread of Covid, there will always be an asterisk attached to Hunt's score.
Such was the quality of his golf, however, that it is unlikely he never strayed off the fairway let alone into a bunker.
His round of 63 featured nine birdies and an eagle that, coming at the par-five first, set the tone for the golfing pyrotechnics to come, not least a birdie bonanza round the turn.
Holes eight, nine, 10 and 11 all yielded birdies, as did the 13th before the 28-year-old proved he was human with a bogey at the 15th.
Sub-par service was resumed at the 17th, however, as the pro from St Mellons Golf Club, Cardiff, recorded the eighth birdie of his round to lead the chase for the £10,000 first prize.
Reflecting on his round, he said: "I had a great start – driver, 5-iron into five feet on the first. Eagle there. Two-iron, wedge to about eight-foot on the second for a birdie.
"I hit a lot of good two-irons off the tee, which is what you've got to do round here. If you hit it 260 – 270 off the tee on the par fours, you're going in with a wedge or nine-iron most of the time. I did that really well and also got the putter going.
"It's the best I've swung it for as far back as I can remember. I haven't played the course before and I really enjoyed it.
"It's a course that suits me – I'm not the strongest driver and it allows me to play two-irons."
In-form Scotsman Paul O'Hara (above) adopted a similar precision as opposed to power modus operandum and, two shots adrift of the leader, has dual targets in his sights.
In addition to attempting to win the four-round tournament for the second time, the 2017 champion leads the PGA Play-Offs which, postponed in 2020 because of Covid, are being held simultaneously.
His seven under par round of 65 puts him two shots clear of England's Jordan Godwin in the PGA Play-Offs and level with compatriot Greig Hutcheon in the PGA Professional Championship.
A shot further back after six under par rounds of 66 lie Ireland's David Higgins of Ireland and Paul Newman of England.
CLICK HERE for a full list of scores to the PGA Professional Championship
CLICK HERE for a full list of scores for the PGA Play-Offs