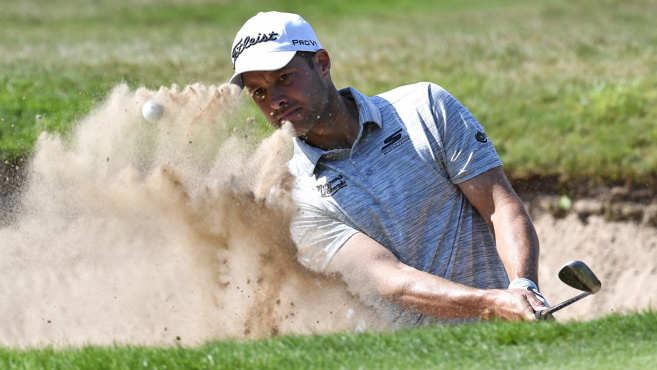 Richard Wallis (Canterbury) was unstoppable around Royal St George's and Prince's Golf Club, cruising to an eight-point victory over Little Channels Golf Centre's Jason Levermore, at the PGA Sandwich Links Championship Pro-Am.
Being played in one of England's best golfing settings, Sandwich, the 24-man field was helpless to Wallis' onslaught, with the 40-year-old the only player under-par on the first day, before dismantling the Himalayas and Shore courses in an exceptional display on day two, claiming the £1000 first prize in the process.
With the first round being held at this year's Open Championship venue, Royal St George's, there was only a glimpse of what was to come, with only one player under par, with the Canterbury golfer shooting four birdies and a single bogey to get to three-under-par and 39 points, some three shots clear of Sandiway Golf Club's Gareth Jones, and Hever Castle Golf Club's Elliott Owens.
As the second round began, it was much the same as the previous day, with Wallis following up a one-under-par front nine, with birdies at the 11th, 13th and 14th putting him clear at the front.
The birdie barrage didn't stop there though, as three consecutive birdies on the 16th, 17th and 18th to finish Wallis' stamped a commanding six-under-par back nine and a 43-point total that no one else could get close to.
In the team event, it was Wallis who once again topped the table, with his squad of Richard Canton, Mark Bryant and Simon Nunney shooting 91 points on the first day and 87 on the second; their 178 overall points total good enough for a one-point win over Stephen Grouwstra's team of Will Nixon, Colin Niner and Michael Carroll.
After two round-of-the-day performances, Wallis' victory is his seventh PGA title of 2021, with the 5-time PGA South Order of Merit winner securing four Pro-Am wins in his last five starts.
There is still time for those that missed out on this year's event to play both venues with The PGA this year. On Sunday 21st November we see the RIP It For Derek Memorial Pro-Am at Prince's, followed by the Royal St George's PGA Pairs Pro-Am on Tuesday 23rd November - get your entries in now!
The 2022 edition of the PGA Sandwich Links Championship Pro-Am will be a 3-day event which gets underway on the 10th-12th October, with Chart Hills being added to Sandwich's two Open venues.